Pure Rock Newswire 08/23/02


By Sefany Jones, Contributing Editor
Friday, August 23, 2002 @ 0:50 AM


| | | |
| --- | --- | --- |
| | | A Summary Of News, Rumors And |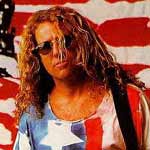 Sammy Hagar and the Waboritas will have available 200 free tickets to their 'Not 4 Sale" gig at Irving Plaza in NYC on August 29th, in which the tickets will be available only through the Irving Plaza box office, starting at 1pm ET tomorrow, August 24th. The show is to honor the September 11th rescue workers, and a vast majority of the proceeds will benefit the NYPD, NYFD, the EMS, and the Port Authority of NY and NJ.

"An Evening With Dream Theater" will consist of two sets, with intermission, and no opening act. The confirmed dates are as follows: 10/18/02 Dublin, IRE Vicar Street
10/20 – 10/21/02 London, UK Astoria
10/23 – 10/24/02 Paris, FRA Mutualite
10/26/02 Freiburg, GER Stadthalle
10/27/02 Nancy, FRA Zenith
10/29/02 Bremen, GER Stadthalle 7
10/30/02 Führt, GER Stadthalle
11/01/02 Offenbach, GER Stadthalle
11/02/02 Düsseldorf, GER Phillipshalle
11/03/02 Rotterdam, NET Ahoy
11/04/02 Petange, LUX Hall Omnisports
11/10/02 Montpelier, FRA Zenith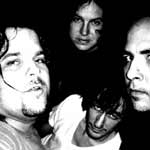 A completely finished and mixed new Streetwalkin' Cheetahs track is briefly available on their website for download. Go to thestreetwalkincheetahs.com and go to the MP3 section. The song is called "One In The Chamber" and was co-written by Tony Fate of the Bellrays. It is one of 16 new songs recorded for their album Gainesville. Nirvana's Greatest Hits is expected to hit the shelves on October 22nd through Universal Music. It may or may not contrain the previously-unreleased bonus track, "You Know You're Right." Well, here's an unusual metal interview! Check out Bankrate.com for a "financial" Q & A with Anthrax's Scott Ian. Nickelback and Theory of a Deadman have the following festival dates lined up: 09/05/02 Blackfoot, ID Eastern Idaho State Fair
09/06/02 Salt Lake City, UT Utah State Fair
09/12/02 Kearney, NE Buffalo County Fairgrounds
09/13/02 Hutchinson, KS Kansas State Fair
09/14/02 Sioux Falls, SD Lyons Fairgrounds
09/15/02 Ft. Lauderdale, FL Lockhart Stadium
09/20/02 Louisville, KY Broadbent Arena
09/21/02 Antioch, TN AmSouth Amphitheatre
09/22/02 Charlotte, NC Verizon Wireless Amphitheatre
09/24/02 Birmingham, AL Oak Mountain Amphitheatre
09/27/02 Huntsville, AL Big Spring Jam
09/29/02 San Antonio, TX Sunken Gardens Amphitheatre

According to Australia's Undercover.com.au, POD bassist Traa clears up the reason for their European tour cancellation, which was first reported that singer Sonny Sandoval was in need of surgery. In fact, Traa says that Sonny is in "excellent shape" and simply needs rest after fighting off a cold, which affected his delicate vocal cords. In other POD news, the band will be performing their single "Satellite" on Last Call With Carson Daly on August 28th.
Although the Deftones' forthcoming album had been rumored to be pushed back to next year, Maverick Records lists it as a November 19th release, under the tentative title of Lovers, which is being produced by Terry Date (Pantera). Soil and Skinlab have the following UK gigs forthcoming: 10/15/02 Norwich, UK Waterfront
10/16/02 Wolverhampton, UK Wulfrun Hall
10/17/02 Manchester, UK Academy
10/19/02 Bristol, UK Academy
10/20/02 Edinburgh, UK Liquid Rooms
10/21/02 Newcastle, UK University
10/23/02 Portsmouth, UK Pyramid Centre
10/24/02 London, UK Astoria Fu Manchu has a handful of US gigs coming up: 09/06/02 Detroit, MI
09/07/02 Youngstown, OH Nyabinghi *
09/08/02 Morgantown, WV 123 Pleasant *
09/09/02 Washington , DC
09/10/02 Philadelphia, PA
09/12/02 Boston, MA
09/13/02 Portland, ME Asylum *
09/14/02 Manchester, NH Chantilly's *
09/16/02 Chicago, IL
09/17/02 Milwaukee, WI
09/18/02 Minneapolis, MN
(* Headlining shows. For other venues, check out JDHardCola.com.)
Joe Satriani's chrome Ibanez guitar was stolen the other night at the Ruth Eckerd Hall in Clearwater, FL. Satriani is offering a $500 reward, no questions asked. Click here to see a photo of the guitar. Check out Satriani.com for more information.

Drummer Gene Hoglan (Strapping Young Lad) has rejoined his band, the reunited Dark Angel. However, it shouldn't interfere with his duties recording with SYL in September. Guitarist Zakk Wylde got a bit huffy at Ozzfest when a journalist conducting an interview with him joked about the sexuality of Wylde's pal baseball player Mike Piazza. You can listen to the interview at Metal-Sludge.com. Vocalist Corey Taylor (Slipknot) denies that his other band, Stone Sour, will take him away from his duties with Slipknot. Stone Sour, a band that Taylor joined back in 1992 before Slipknot, is readying to release their self-titled album on August 27th through Roadrunner.
Shadows Fall have wrapped up their tour with Kittie and Killswitch Engage, but will hit a couple more gigs -- with Death Threat and Sworn Enemy -- on their way back to their home state of Massachusetts: 09/05/02 Richmond, VA Alley Katz
09/06/02 Columbia, SC Uncle Doctors
09/07/02 Atlanta, GA Masquerade Guns N' Roses will be supported by Weezer at England's London Arena on August 26th. Vex Red will be gigging around the UK this fall: 10/06/02 Dublin, IRE Spirit
10/08/02 Newport, UK TJ's
10/09/02 Norwich, UK Waterfront
10/10/02 Manchester, UK Manchester Uni
10/11/02 Sheffield, UK Leadmill
10/12/02 Edinburgh, UK Liquid Rooms
10/13/02 Northumbria, UK Northumbria Uni
10/15/02 Exeter, UK Lemon Grove
10/16/02 Brighton, UK Concorde
10/17/02 Portsmouth, UK Pyramid Guitarist Larry LaLonde (Primus) will create A Frank Zappa compilation as part of the forthcoming Zappa Picks anthology series. The album will be due out on October 15th, and will include liner notes from LaLonde. In other Primus news, bassist/vocalist Les Claypool will head out with his Frog Brigade on their "Purple Onion" tour. Dates include: 10/11/02 Santa Cruz, CA Civic Auditorium
10/12/02 Los Angeles, CA El Rey Theater
10/13/02 San Diego, CA 4th and B
10/14/02 Anaheim, CA House of Blues
10/16/02 Phoenix, AZ Nita's Hideaway
10/18/02 Denver, CO Ogden Theater Danzig wrapped up their video shoot of "Kiss the Skull." They expect it out sometime in September. They will be headlining a festival on August 31st at On The Waterfront in Rockford, IL. Danzig-verotik.com has added new photos to their site, taken by our own Crazy Craig (who also works with Glenn Danzig), from The World in NYC on June 28th and The Grove in Anaheim, CA on August 4th. Danzig hopes to tour Europe and Japan by the end of the year.
Skinlab has been tapped at the last minute to open up for Judas Priest tonight, August 21st, at San Francisco's Fillmore Auditorium. Skinlab goes on at 9 PM.

Rob Zombie has teamed up with Pete's Wicked Ale brewing company to help promote the forthcoming Zobmie flick, House of 1000 Corpses, which is slated to premier October 15th in Los Angeles. Check out PetesWicked.com for a chance to be flown to LA for the premier. The following Ramones albums (their 5th through their 8th) were reissued yesterday, remastered with additional tracks: 1980's End Of The Century, 1981's Pleasant Dreams, 1983's Subterranean Jungle, and 1984's Too Tough To Die. Guns N' Roses kicked off their 'Chinese Democracy' Tour in Hong Kong last week, apparently breaking festival records in Tokyo and Osaka. GNR will perform at the Leeds Festival August 23rd, as well as perform at Belgium's Pukkelpop Festival, and headline their own show at the Dockland's Arena. Stone Temple Pilots have the following gigs confirmed: 09/06/02 San Diego, CA Downtown San Diego San Diego Street Scene
09/07/02 Fontana, CA California Motor Speedway Harley Davidson: Open Road Tour
09/28/02 Atlanta, GA Hi-Fi Buys Amphitheatre
09/29/02 Noblesville, IN Verizon Wireless Music Center
10/02/02 Maryland Heights, MO UMB Bank Pavilion *
10/04/02 Antioch, TN AmSouth Amphitheatre *
10/22/02 Lafayette, LA CajunDome *
10/24/02 New Orleans, LA New Orleans Arena *
10/27/02 Fort Worth, TX Texas Motor Speedway Harley Davidson: Open Road Tour
10/28/02 Selma, TX Verizon Wireless Amphitheatre *
10/30/02 The Woodlands, TX C/W/ Mitchell Pavilion *
(* opening for Aerosmith)

Bassist Melissa Auf Der Maur (ex-Hole) and her new Black Sabbath tribute band, Hand of Doom, will release their debut album on October 22nd. Although Auf Der Maur will handle vocals, Nick Oliveri (Queens of The Stone Age) will lend his vocals on the track "Mob Rules."
P.O.D. had to cancel their forthcoming European tour which was scheduled to begin in Amsterdam on October 10th. Vocalist Sonny Sandoval may be facing surgery for a herniated disc, which is causing him pain in his neck and back. They anticipate rescheduling as soon as they can. Slipknot's forthcoming live DVD, containing footage from a gig in London this year, has been pushed back to what may be a November release through Roadrunner. Bassist Roger Glover (Deep Purple) will issue his latest solo effort, Snapshot, on September 2nd through Eagle Rock. Candiria and 40 Below Summer announce additional tour dates, so the complete itinerary is as follows: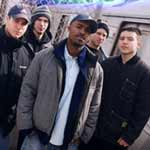 09/04/02 Allentown, PA Crocodile Rock
09/05/02 Hartford, CT Webster Theatre
09/07/02 Old Bridge, NJ Birch Hill
09/08/02 Albany, NY Northern Lights
09/10/02 Toledo, OH Hard Hat Café
09/12/02 Chicago, IL Oasis One Sixty
09/13/02 Milwaukee, WI The Rave
09/14/02 Minneapolis, MN The Lab
09/15/02 Madison, WI Club Raven
09/18/02 Detroit, MI IRock
09/19/02 Pittsburgh, PA Club Laga
09/22/02 Poughkeepsie, NY The Chance Jackyl's forthcoming album, Relentless, is set to be released on October 22nd. Their first single, "Kill The Sunshine," was co-written by vocalist Brian Johnson (AC/DC). Blabbermouth.net reports the following: Nickelback walked off stage during the second song of their scheduled appearance at Portugal's Ilha do Ermal festival on Monday, August 19th after being continually pelted with rocks and bottles during the early part of their performance, thus preventing the group from safely carrying on with their show. Disturbed refuse to edit their video for "Prayer," which hails from their forthcoming CD, Believe. Mainstream outlets will not run the video, as the "apocalyptic content" bears too much resemblance to the September 11th terrorist attacks. The band likes the video so much that they'd rather it didn't get played, than to compromise their work. You can decide for yourself by checking out our download section.

Apparently bassist Bob Daisley and drummer Lee Kerslake have had their case against the Osbournes -- in which they claimed the Osbournes owe them over 20 million dollars in royalties for songwriting -- dismissed by a judge, based upon the fact that the judge says the statute of limitations had long since expired, and because the two artists could not show cause as to why they were improperly credited on the albums in question, Blizzard of Ozz and Diary of a Madman.
Queens of the Stone Age will be performing a handful of in-store performances around the week of the release of their forthcoming album, Songs For The Deaf: 08/26/02 San Francisco, CA Virgin Megastore 11PM
(*get special QOTSA stash with purchase of the album) 08/27/02 Los Angeles, CA Amoeba Records 6PM
(*free poster with purchase of the album) 08/28/02 San Diego, CA Tower Records 6PM
(*get free QOTSA stash with purchase of the album) Bassist Jason Newsted (ex-Metallica) and his own Chophouse imprint will release a split CD from two of his long-running projects: Sexoturica, which features guitarist Andreas Kisser (Sepultura), and IR8 which features Newsted, Tom Hunting (Exodus) and Devin Townsend (Strapping Young Lad). On Thursday August 22nd, 2002 at 7:00 PM, Soulbender, featuring Michael Wilton (Queensryche), will be performing at the Showbox in Seattle, WA as part of the Layne Staley tribute show, and what would have been Staley's 35th birthday. For more info, check out LayneStaleyTribute.com.
WASP will kick off a fall tour mid-October in Phoenix, AZ, joined by Stephen Pearcy, Engine, and Alabama Thunder Pussy. Tour dates expected to be announced soon. King's X will do an in-store meet and greet: 09/12/02 Boston, MA Daddy's Junky Music 3 – 4 PM Corrosion Of Conformity are in the process of recording new songs for an album to be released sometime early next year. Of course, the band is working around vocalist/guitarist Pepper Keenan's schedule, as he is still out on the road with Down. Hopefully, COC will get in some quality time with Keenan after Ozzfest ends in early September. Drummer Jimmy Bower, who's spread himself thin between COC, Down, Superjoint Ritual and Eyehategod, had been replaced in COC by Merritt Partridge, as Bower just couldn't make the time to record. More info to come. Spiritual Beggars, which features Mike Amott (Arch Enemy), will be releasing their latest album, On Fire, on October 8th, 2002 through Koch International. Manowar are set to annihilate German fans on the following dates: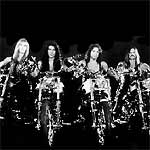 11/30/02 Trier, GER Messehalle
12/02/02 Munich, GER Zenith
12/03/02 Friedrich-Ebert-Halle, GER
12/04/02 Leipzig, GER Haus Auensee
12/06/02 Cologne, GER Palladium
12/07/02 Bamberg, GER Forum
12/08/02 Freiburg, GER Stadthalle
12/10/02 Kiel, GER Ostseehalle
12/11/02 Erfurt, GER Messehalle
12/13/02 Böblingen, GER Sporthalle
12/14/02 Frankfurt, GER Ballsporthalle
12/16/02 Dortmund, GER Westfalenhalle
12/17/02 Oldenburg, GER Weser Emshalle
12/18/02 Hannover, GER Eilenrieder Halle
12/19/02 Berlin, GER Columbiahalle Godsmack -- with new drummer Shannon Larkin (ex-Amen) in tow – is readying to get back into the studios by October, with anticipation of releasing a new album in early 2003.
Tommy Lee will fill in the Drowning Pool main stage slot on Ozzfest for the remainder of the dates, beginning Thursday, August 22nd at Pepsi/City Lights in Denver, CO. In other Tommy Lee news, he has set "Ashamed" (featuring vocalist Chino Moreno of the Deftones) as the next single from his album, Never A Dull Moment. He and his band hope to tour more in the fall.

Joe Satriani will begin webcasting special footage on his official web site. The webcast combines bonus rehearsal footage with a live show from Amsterdam, Holland. Each week showcases 1/4th of the 2 hour+ live show, plus an exclusive glimpse at the rehearsal process and walk-throughs of gear and effects by Joe, bassist Matt Bissonette and drummer Jeff Campitelli. The webcast wraps up with two days that includes the show in its entirety! Here's the schedule for when you can come to and tune in: 08/23/02 10AM (PST) - Rehearsal + Part 2
08/30/02 10AM (PST) - Rehearsal + Part 3
09/06/02 10AM (PST) - Rehearsal + Part 4
09/14/02 10AM (PST) - Everything! Guitarist Eddie Van Halen apparently traded licks to "Never In My Life" onstage with Leslie West & Mountain on Saturday, August 10th at the latter's gig at the House of Blues in West Hollywood, CA. All That Remains -- featuring vocalist Philip Labonte (ex-Shadows Fall) -- will be touring the U.S. for a short jaunt in September, along with Swon Enemy and Bloodlet, in support of their Prosthetic/Metal Blade Records debut album Behind Silence and Solitude. December and Cephalic Carnage will do their rounds throughout Canada before they join Kreator and Destruction on their North American tour. (Click here for the North American dates). The Canadian dates are as follows: 08/21/02 Winnipeg, MAN Royal Albert
08/22/02 Regina, SAS Exchange
08/23/02 Saskatoon, SAS The Basement
08/24/02 Calgary, ALB TA Verns
08/25/02 Edmonton, ALB Fox and Hounds
08/28/02 Penticton, BC Masonic Hall
08/29/02 Vancouver BC Cobalt
08/31/02 Victoria, BC Sound Garden

Mudhoney will be releasing their latest album, Since We've Become Translucent through Subpop on August 20th, 2002.
Lacuna Coil have allegedly cancelled out of a forthcoming North American tour with In Flames, Sentenced and Killswitch Engage. Stay tuned for confirmation. VH1's Rock Grave is looking for people to feature on the program, in which VH1 will join you on a journey to the artist's gravesite, and along the way, they'll learn about you and why this artist's death has changed your life. They're especially interested in fans of these artists: Jimi Hendrix, Kurt Cobain (Nirvana), Layne Staley (Alice In Chains), Elvis Presley), Jerry Garcia (Grateful Dead), Cliff Burton (Metallica), Randy Rhoads (Ozzy Osbourne), and Brad Nowell (Sublime). If you'd like to participate, check out VH1.com for the entry details. Godhead is apparently scheduled for a "surprise" gig consisting primarily of new material on Wednesday, August 21st at The Dragonfly in Hollywood, CA at 9:30 PM. Cattle Decapitation -- upon releasing their Metal Blade debut album To Serve Man -- has been tapped to support Gwar from October 1st through November 4th. Exact dates and venues will be announced shortly. Marduk will begin recording their next full-length album in the beginning of September. The band will record the basics of the album at first and then go back in November to put the final touches. Currently, they anticipate a February 2003 release, hopefully followed by a major European tour. The band still has not been able to get into the US due to the INS, but are continuing to work out that issue.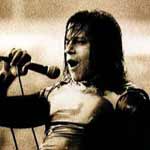 Danzig just filmed a video for "Kiss The Skull" last Saturday in Los Angeles with director Tom Mignone (ie Slipknot, Mudvayne). The reunited Y&T have the following fall gigs lined up: 11/02/02 Concord, CA Pavillion (w/ Journey)
11/07/02 Hollywood, CA Key Club
11/08/02 Anaheim, CA Galaxy Theater
11/09/02 Ventura, CA Ventura Theater (w/ Montrose)
11/16/02 Petaluma, CA Mystic Theater

Vocalist Stephen Pearcy has the following tour dates lined up: 09/26/02 Peru, IN Hanger 18
09/27/02 Rockford, IL Elixur
09/28/02 Glendale Hgts., IL Shark City
09/30/02 New York, NY Don Hill's
10/03/02 Poughkeepsie, NY The Chance
10/04/02 Centereach, NY King's Club
10/05/02 Hartford, CT Webster Theater
The late vocalist Layne Staley (Alice in Chains) would have been 35 on August 22nd. There will be a special tribute show in honor of the singer on that day at Seattle's Showbox. The show will benefit the Eastside Recovery Center. For more info, please visit LayneStaleyTribute.com.

Brand New Sin will wrap up their current tour with Fu Manchu, and continue touring with Zakk Wylde's Black Label Society this September. The confirmed dates are as follows: 09/05/02 Saginaw, MI. TBA (Headlining)
09/07/02 Youngstown, OH Nyabingbi (with Fu Manchu)
09/08/02 Morgantown, WV 123 Pleasant (with Fu Manchu)

Dates with Black Label Society:
09/12/02 Chicago, IL Synergy
09/13/02 Edgartown, WI Club Raven
09/14/02 Detroit, MI Harpo's
09/15/02 Springfield, VA Jaxx
09/18/02 Hartford, CT Webster Theatre
09/19/02 Manchester, NH Chatilly's
09/20/02 Portland, ME Asylum
09/21/02 Asbury Park, NJ Stone Pony
09/24/02 Winston-Salem, NC Ziggy's Primal Fear have a few confirmed Brazilian gigs this winter: 12/04/02 Porto Alegre, BRA Bar Opinion
12/06/02 Belo Horizonte, BRA Lapa Multi Show
12/07/02 Sao Paulo, BRA Via Funchal
12/08/02 Curitiba, BRA Moinho Sao Roque

It's been officially confirmed that guitarist Dominion has amicably parted ways with Dark Funeral. Apparently the guitarist left on good terms – he wanted to move on and try some new things.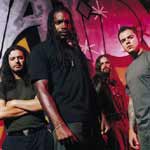 Sepultura have a couple of random gig coming up: 08/16/02 Trutnov, CZE Trutnov Open Air
08/31/02 Palma, BRA Green Rock Festival
09/08/02 Belo Horizonte, BRA Pop Rock Festival Vocalist Joacim Cans (Hammerfall) was assaulted with a broken beer glass during a gig in his hometown of Gotherburg, Sweden. His right eye was sliced open and required 25 stitches. This forced the postponement of their video shoot for "Hearts of Fire" from their forthcoming album, Crimson Thunder. Vocalist Zack De La Rocha (ex-Rage Against the Machine) has been working on his solo album with Trent Reznor (Nine inch Nails) at the latter's New Orleans studio. De La Rocha has been writing and recording for the last two years, but has yet to confirm an album title or a release date. Rush have lined up a bunch of new North American dates: 10/05/02 Mexico City, MEX Foro Sol
10/10/02 Tampa, , FL Ice Palace
10/11/02 West Palm Beach, FL Mars Music Amphitheatre
10/13/02 Atlanta, GA Phillips Arena)
10/15/02 Baltimore, MD Baltimore Arena
10/16/02 Rochester, NY Blue Cross Arena
10/18/02 Montreal, QUE Molson Centre
10/19/02 Quebec City, QUE Colisee
10/22/02 Toronto, ONT Air Canada Centre
10/24/02 New York, NY Madison Square Garden
10/25/02 Hershey, PA Giant Center
10/27/02 Philadelphia, PA First Union Center
10/28/02 Boston, MA FleetCenter
10/30/02 Chicago, IL United Center
11/01/02 Ames, IA Hilton Coliseum
11/02/02 Minneapolis, MN Target Center
11/04/02 Cleveland, OH Gund Arena
11/06/02 East Rutherford, NJ Continental Airlines Arena Satyricon have finished the track listing for their album Volcano through Nuclear Blast (Capitol Records in Scandinavia), and anticipate a September 2nd release. Guitarist Marty Friedman and bassist Dave Ellefson (both ex-Megadeth) will join singer Steve Richards to record Buddy Holly's "That Makes It Tough," a song that was never completed. Sharon and Ozzy Osbourne have "adopted" a family friend, who's mother just passed away from the same type of colon cancer that Sharon is currently being treated for. The friend is Robert Marcato, who befriended Kelly and Aimee Osbourne years ago, in which Robert's mother Regan became close to the entire Osbourne family. The Osbournes offered a great deal of financial support to Robert's mother in her last few weeks of suffering, paying for 24-hour medical care and such. The Osbournes vowed to take care of Robert financially, including supporting him through drama school.
Motorhead and Anthrax will set out to tear up Europe in October! Confirmed dates so far are:

10/13/02 Manchester, UK Apollo
10/14/02 Glasgow, SCO Clyde Aud
10/15/02 Birmingham, UK NIA
10/17/02 Newport, UK Newport Centre
10/18/02 TBA
10/19/02 London, UK Wembley Arena
10/21/02 Offenbach, GER Stadthalle
10/22/02 Stuttgatart, GER Philharmonie
10/23/02 Berlin, GER Columbia Hall
10/25/02 Munich, GER Colosseum
10/27/02 Cologne, GER E Werk
10/28/02 Amsterdam, NETH Heineken Music Hall
10/29/02 Paris, FRA Zenith Will Haven are in the process of writing new material for their next album, which they plan to release sometime next year through an undetermined label. The band will perform on October 12th in Sacramento, CA at the Colonial Theater. Prong, along with Korn, Guns N' Roses, Filter, Jane's Addiction and Sick Of It All, will perform at the Pukkelpop festival in Belgium on August 22nd – 24th. Prong will play on the 23rd. The Murderdolls will be making an appearance at the Virgin Megastore in Piccadilly Circus, London, UK at 6:00 PM on Friday, September 13th. Vocalist Sully Erna (Godsmack) has officially announced that Shannon Larkin (ex-Amen/Ugly Kid Joe) will permanently replace drummer Tommy Stewart.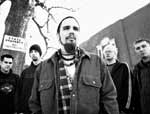 Killswitch Engage will be out on the road with In Flames, Lacuna Coil and Sentenced: 09/16/02 San Francisco, CA Slims
09/17/02 Pomona, CA The Glass House
09/21/02 Lawrence, KS Bottleneck
09/22/02 Milwaukee, WI Rave/Eagles Ballroom
09/23/02 Detroit, MI I-Rock Nightclub
09/28/02 Providence, RI Lupos Saxon have the following gigs lined up: 09/27/02 Montpellier, FRA Rockstore
09/28/02 Soria, SPA Soriarock
09/29/02 Bordeaux, FRA Koslow On September 23rd, Saxon will release Heavy Metal Thunder, which contain 13 classic tracks re-recorded, as well as a bonus CD, which will contain 5 live tracks recorded in San Antonio 2002 (official bootleg) and the video "Killing Ground," which was recorded live at Wacken Open Air 2001. Raging Speedhorn will release their sophomore album, We Will Be Dead Tomorrow on September 23rd. While guitarist/vocalist Pepper Keenan is out on the road with Down, the other members of Corrosion of Conformity -- guitarist Woody Weatherman, bassist Mike Dean and drummer Merritt Partridge -- have formed as the Let 'Lones, and will play their first show Saturday, August 17th at Kings Barcade in downtown Raleigh, NC. The other bands playing are headliners Night Moose (featuring drummer Brian Walsby, ex-Polvo) and openers Caspian Sea Monsters. Jerry Cantrell has the following UK gigs lined up so far: 09/29/02 Newport, UK TJ's
09/30/02 Wolverhampton, UK Wulfrun
10/01/02 Bradford, UK Rio's
10/03/02 London, UK Mean Fiddler
10/05/02 Glasgow, UK Garage
10/06/02 Manchester, UK University
Soilwork will play Germany's Summer Breeze, along with Dimmu Borgir and Hypocrisy on August 22nd – 24th. In October, Soilwork will support In Flames and Pain in Europe, with a North American tour likely to follow.

The Fallen are throwing a party at the Galaxy Theatre in Santa Ana, CA on September 1st, as their debut album Front Toward Enemy is to be released on September 10th through Metal Blade. Advance discount tickets are available, only $6. Send an e-mail to thefallen@cox.net or phone (949) 448-8224. 40 Grit's sophomore release, Nothing to Remember, has been pushed back to January 2003. Taproot shot the video for their new single "Poem" on August 9th in Los Angeles, CA with directing duo The Brothers Strause (Linkin Park). Their album Welcome is set for release on October 15th. Minneapolis based Dark Metal act Epicurean just signed a deal with Nightfall/Terrorizer Records to release their debut full-length Twilight Symphonies sometime this fall, however no specific date has been set for the album's release at this time. Although it has yet to be confirmed, it appears that Headstrong has been dropped from RCA after only six months since the release of their debut album, which contained the single "Swing Harder." A bit of foreshadowing occurred when they were forced to pull off the support slot for the Tommy Lee tour. More information to follow as it comes in.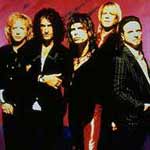 Remember the days when a blowjob or some blow would get you backstage? Aerosmith's fan club, AeroForce One, will get you seats in the first three rows, a goody bag, and VIP backstage passes for a mere $450 -- it is called the "Velvet Rope Experience." For more info, visit AeroForceOne.com. Preview the track "Love Me/Hate Me" from Kristy Krash Majors' (Pretty Boy Floyd) first ever solo CD, titled The Devil In Me at Perrisrecords.com. The release date for The Devil In Me is August 27th. Every Mother's Nightmare will be recording their show at Newby's August 17th in Memphis, TN. The scheduled release date for EMN's first-ever live CD is September 17th. Drummer Alex Holzwarth (Rhapsody) will continue to fill in for the remainder of Blind Guardian's Brazilian tour, as their regular drummer, Thomas Stauch, is out with a tendon infection. Guitarist Chris Poland's (ex-Megadeth) debut album, Return To Metropolis has a new version, with two songs performed by his new band, OHM. OHM will tour Europe later in the year with Taboo Voodoo.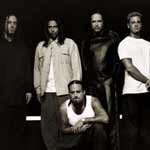 Apparently the "unreleased" Korn song, "Love on The Cocks," is for real, as there was some speculation as to the actual identity of it. The Korn-twisted Neil Diamond cover (of "Love on the Rocks") can be found at Kornweb.com or in the fan club section of their official site, Korn.com. Spanish guitarist Tony Hernando has released his second solo album, The Shades of Truth. Said to be a funky, fusion, progressive album with "high-tech shredding" and "beautiful compositions." Guitarist Andy Timmons (ex-Danger Danger) appears on the album. The Wildhearts have added more tour dates to their itinerary: 09/26/02 Glasgow, UK Garage
10/02/02 Dudley, UK JB's
10/06/02 Camber Sands, UK Kerrang! Weekender
10/07/02 Cardiff, UK Coal Exchange
10/08/02 Liverpool, UK University
10/10/02 Manchester, UK MDH The Alex Skolnick Trio -- featuring guitarist Alex Skolnick (ex-Testament/Savatage) – will hit the road in support of their debut album, Goodbye To Romance: Standards For A New Generation, which released this year in March. Confirmed dates so far are as follows: 08/29/02 Burlington, VT Waiting Room
09/02/02 Boston, MA Middle East
09/04/02 Ithaca, NY The Haunt
09/06/02 PA Penn State
09/09/02 Toledo, OH Mickey Finn's
09/10/02 Ann Arbor, M @ Blind Pig
09/13/02 Chicago, IL The Elbo Room
09/18/02 Rochester, NY The Montage To check out the previous newswire, click here.




Please log in to view RANTS

If you don't have a username, click here to create an account!






Represent! Get Your KNAC.COM Bumper Sticker

Happenings This Week on KNAC.COM

KISSIN' DYNAMITE Launches New Track "You're Not Alone"

Brazilian Band HEAVEN: CHOIR METAL Streams First Track "Sacred Blood"

GRAVE DIGGER Unveil The Living Dead Album Details

CLUTCH Announce "Book Of Bad Decisions Tour" Dates

NIGHT DEMON Debuts Video For "Life On The Run"

SLASH FT. MYLES KENNEDY & THE CONSPIRATORS Are Living The Dream With New Album

OMNIUM GATHERUM Reveal Cover Art, Tracklisting For New Album The Burning Cold

CITY OF THE WEAK Say "Not This Time" With New Video

Heavy Metal Mariachi Masters METALACHI Announce More Summer Tour Dates

MASSIVE WAGONS Debut "Billy Balloon Head" Video

MONSTER MAGNET Announces North American Tour

MUSHROOMHEAD To Release New DVD, Volume III

Guitar Legend ADRIAN GALYSH Releases "So Close... So Far" Single

MEGADETH Bassist DAVID ELLEFSON Announces First Dates For His 'Basstory' Tour

TESTAMENT Guitarist ERIC PETERSON Reveals New DRAGONLORD Album Details

HIRAX Announce European 2018 Tour For August

U.D.O. Reveal New Album Steelfactory, First Single

SERPENTS KISS Stream New Track "Black Wizard"

BLITZKRIEG Unleash "Angels Or Demons" Single, Video

PHILIP H. ANSELMO & THE ILLEGALS' US Tour Rescheduled For This Fall

LORD OF THE LOST Launch "Morgana" Video

AFM Reveals All For Metal Vol. V Compilation

HELION PRIME Set To Release New Album Terror Of The Cybernetic Space Monster

KING DIAMOND LP Reissues Now Available For In Concert 1987: Abigail, The Graveyard And The Spider's Lullabye

MEKA NISM Premiere "Trailblazer" Video

GRETA VAN FLEET Adds More Dates To 2018 World Tour

MR. BIG Releases Live Video Of "Colorado Bulldog"

BLESSTHEFALL Announce September Headline Tour

FATE DESTROYED Reveal New Video For "Break Free"

LIZZY BORDEN Streams "The Scar Across My Heart" Track

A PERFECT CIRCLE Debut 2D Clip Of "The Contrarian"

VOIVOD Announce New Album "The Wake", European Tour

MADBALL Release Video For New Single, "Rev Up"

ANGEL's PUNKY MEADOWS, FRANK DIMINO Announce First Ever UK Tour

VICIOUS RUMORS Set To Release Limited Live DVD 666 Years of Blood, Sweat & Cheers

GOATWHORE Announces European Headlining Dates

BEYOND THE BLACK Reveal New Album Details For Heart Of The Hurricane

DORO Releases First New Video "All For Metal"

TREAT Announces New Album Tunguska

KORPIKLAANI Stream New Single, Lyric Video For "Kotikonnut"

MOONSPELL Unveil Details Of Upcoming Live DVD/Blu-Ray/3CD

VAN CANTO Announce New Album For August

MOTORHEAD To Release Official ROAD CREW Beer In The United States

ENUFF Z'NUFF Announce New Album Diamond Boy

MEAN STREAK "Settle The Score" With New Video

DREAM CHILD Reveal Debut Album Details

TRIVIUM To Embark On Headline Tour This Fall

BILLY MORRIS AND THE SUNSET STRIP Set To Release Debut Album Holdin' All The Aces

REVOCATION Confirm North American Headline Tour

EVERYONE LOVES A VILLAIN Debut "Eater Of Worlds" Video

GEN X Tour Partners With Anrgirl For Pay Per View Live Stream Of July 3rd Show

JACK RUSSELL'S GREAT WHITE To Headline The 2018 HAIR NATION TOUR

MINISTRY Announces Fall North American Tour

LIVESAY Inks Deal, Set To Release Compilation Album

GRAVE DIGGER Unveil Title, Release Date Of New Album

MOB RULES To Release New Album Beast Reborn

RYAN ROXIE Announces US Tour Dates

CANE HILL, KING 810 Announce Co-Headline Summer Tour

RATBREED Debut "Hunting High, Reaping Low" Single

GODSMACK, SHINEDOWN Confirm Additional Co-Headlining Tour Dates Into The Fall

CHRONUS Announce U.S Album Release Date

BULLET FOR MY VALENTINE Release "Letting You Go" Video

URIAH HEEP Reveal Living The Dream Album Details

WINTERSUN Announce North American Tour

HALCYON WAY Premiere Music Video For New Track "Blame"

DEE SNIDER Streams New Track "Tomorrow's No Concern"

LOUDER THAN LIFE Festival Expands, 2018 Band Lineup Announced

HOLLYWOOD UNDEAD Share New Track, "Gotta Let Go"

STEVE 'N' SEAGULLS Announce Grainsville Album Details

KATAKLYSM Release Music Video For "Outsider"

THE SKULL Stream New Album Title Track "The Endless Road Turns Dark"

TARJA Premieres "Love To Hate" Video

COLDSPELL Release "It Hurts" Music Video

DC4 Set To Unleash Atomic Highway Album

T.R.O.Y. Release Official Video For "Wicked World"

OF LIMBO Launches GO FUND ME After Near Fatal Van Wreck

MONSTER TRUCK Return With New Album True Rockers

European MTV "Headbanger's Ball Tour" 2018 Announced

METALOCALYPSTICK Unleashes FREE Festival Digital Sampler - Metal Queens Vol. 2