SAXON To Release Solid Book Of Rock Box Set


By Larry Petro, News Monkey
Friday, July 7, 2017 @ 2:25 PM


| | | |
| --- | --- | --- |
| | | Out August 4th; Video Trailer Launched |
Metal giants SAXON have announced the release of Solid Book Of Rock, an upcoming 14-disc box set which will be available on August 4th. A video trailer for the release has been launched and you can check it out below.

Solid Book Of Rock contains SAXON's nine studio albums from 1991 to 2009 with eight bonus tracks, plus two bonus CDs (Classics Re-Recorded originally issued with the initial pressings of Killing Ground, and Lionheart - Rough Studio Mix originally issued on the 2006 limited edition) and three bonus DVDs (the limited edition DVDs originally released with Lionheart, The Inner Sanctum and Into The Labyrinth. It all comes in a 12" x 12" casebound book featuring a stunning brand new cover painting by Paul R. Gregory and includes a 24-page booklet with all the lyrics and credits, plus photos.

If that wasn't enough, you can get this fabulous cover art as a print signed by Biff with the Amazon Exclusive Edition. These are limited to just 500 copies so be quick. Order yours HERE.

Tracklisting:

Solid Ball Of Rock:
"Solid Ball Of Rock"
"Altar Of The Gods"
"Requiem (We Will Remember)"
"Lights In the Sky"
"I Just Can't Get Enough"
"Baptism Of Fire"
"Ain't Gonna Take It"
"I'm On Fire"
"Overture In B-Minor / Refugee"
"Bavarian Beaver"
"Crash Dive"
Bonus tracks:
"Requiem (We Will Remember)" [single version]
"Reeperbahn Stomp"
Forever Free:
"Forever Free"
"Hole In The Sky"
"Just Wanna Make Love To You"
"Get Down And Dirty"
"Iron Wheels"
"One Step Away"
"Can't Stop Rockin'"
"Nighthunter"
"Grind"
"Cloud Nine"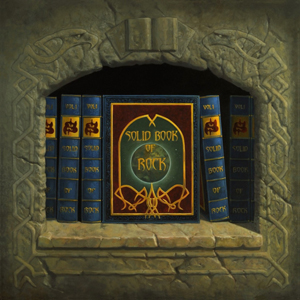 Bonus tracks:
"Princess Of The Night" [live]
"Forever Free" [live]
Dogs Of War:
"Dogs Of War"
"Burning Wheels"
"Don't Worry"
"Big Twin Rolling (Coming Home)"
"Hold On"
"The Great White Buffalo"
"Demolition Alley"
"Walking Through Tokyo"
"Give It All Away"
"Yesterday's Gone"
Bonus tracks:
"The Great White Buffalo" [live]
"Denim And Leather" [live]
Unleash The Beast:
"Gothic Dreams"
"Unleash The Beast"
"Terminal Velocity"
"Circle Of Light"
"The Thin Red Line"
"Ministry Of Fools"
"The Preacher"
"Bloodletter"
"Cut Out The Disease"
"Absent Friends"
"All Hell Breaking Loose"
Bonus tracks:
"Crusader" [live]
"Solid Ball Of Rock" [live]
Metalhead:
"Intro"
"Metalhead"
"Are We Travellers In Time"
"Conquistador"
"What Goes Around"
"Song Of Evil"
"All Guns Blazing"
"Prisoner"
"Piss Off"
"Watching You"
"Sea Of Life"
Killing Ground:
"Intro"
"Killing Ground"
"Court Of The Crimson King"
"Coming Home"
"Until Hell Freezes Over"
"Dragon's Lair"
"You Don't Know What You've Got"
"Deeds Of Glory"
"Running For The Border"
"Shadows On The Wall"
"Rock Is Our Life"
Classics Re-Recorded [Bonus CD]:
"Princess Of The Night"
"Crusader"
"Wheels Of Steel"
"Motorcycle Man"
"Strong Arm Of The Law"
"Denim And Leather"
"Dallas 1pm"
"And The Bands Played On"
Lionheart:
"Witchfinder General"
"Man And Machine"
"The Return"
"Lionheart"
"Beyond The Grave"
"Justice"
"To Live By The Sword"
"Jack Tars"
"English Man O'War"
"Searching For Atlantis"
"Flying On The Edge"
Lionheart Studio Audio - Rough Mix [Bonus CD]:
"Witchfinder General"
"Man And Machine"
"The Return"
"Lionheart"
"Beyond The Grave"
"Justice"
"To Live By The Sword"
"Jack Tars"
"English Man O'War"
"Searching For Atlantis"
"Flying On The Edge"
"Beyond The Grave" [single version]
The Inner Sanctum:
"State Of Grace"
"Need For Speed"
"Let Me Feel Your Power"
"Red Star Falling"
"I've Got To Rock (To Stay Alive)"
"If I Was You"
"Going Nowhere Fast"
"Ashes To Ashes"
"Empire Rising"
"Attila The Hun"
Into The Labyrinth:
"Battalions Of Steel"
"Live To Rock"
"Demon Sweeney Todd"
"The Letter"
"Valley Of The Kings"
"Slow Lane Blues"
"Crime Of Passion"
"Premonition In D Minor"
"Voice"
"Protect Yourselves"
"Hellcat"
"Come Rock Of Ages (The Circle Is Complete)"
"Coming Home" [bottleneck version]
Lionheart DVD:
Lionheart - making of
"Lionheart" - live clip
"Beyond The Grave" - promo video
5.1 96k high end sound mix of the album
The Inner Sanctum DVD:
A Night Out With The Boys
"To Hell And Back Again"
A Night Out With Boys - The Idea
A Night Out With Boys - Not Really
"See The Light Shining"
A Night Out With Boys - Now It Started
"Redline"
"Suzie Hold On"
"Stand Up And Be Counted"
"Frozen Rainbow"
"Never Surrender"
Into The Labyrinth DVD:
"Perceval" - Biff plays King Arthur in this Spanish film, directed by Pablo Aragues Millan
"Let There Be Light" - documentary about the live staging and lighting
Audio interview with Biff Byford - Biff talks about the songs on Into The Labyrinth




Please log in to view RANTS

If you don't have a username, click here to create an account!






Represent! Get Your KNAC.COM Bumper Sticker

Happenings This Week on KNAC.COM

THRUST Set To Release Harvest Of Souls Album

EMMURE Release "Ice Man Confessions" Video

DEEP PURPLE, JUDAS PRIEST Announce Summer Co-Headline Tour

OVERKILL Say "Thanx For Nothin'" In New Video

TARJA, STRATOVARIUS Announce "A Nordic Symphony '18" Double Headline Tour

BRUCE DICKINSON Set To Release Scream For Me Sarajevo Film Soundtrack And DVD

CANCER BATS Release Surprise New LP The Spark That Moves

LIFECURSE Releases "Buzzard Bait" Video

FROM ASHES TO NEW Release New Album The Future

MONUMENT Release "William Kidd" Video

WHITE WIZZARD Unveil 8 Minute "Chasing Dragons" Video

THE DEAD DAISIES Announce EU & UK Summer Tour

MENZAJAMS Presents NICK MENZA Benefit Concert, Auction

JIZZY PEARL'S LOVE/HATE Confirm UK Tour

MONSTERS OF ROCK CRUISE 2019 Lineup Revealed

DEVIN TOWNSEND Announces ERAS Part 1 Vinyl Collection

RAGE Members Form New Band REFUGE, Release New Single

ANGEL VIVALDI Announces The "Melodic Decadence" Summer Tour

Guitarist PAUL CROOK Launches All-Star Interactive Band DEVILSTAR

NIGHT DEMON Reveal Details For "Darkness Over North America Tour" 2018

FATES WARNING Announce Live Over Europe Album

Three KING DIAMOND Vinyl Reissues, Abigail, Fatal Portrait And Them Now Available

DEVILDRIVER Reveals Outlaws 'Til The End Country-Gone-Metal Covers Album

Rock/Metal Artist DEREK HESS Announces "31 Days in May" Mental Health Awareness Tour

CANDLEMASS To Release New EP House Of Doom

HOGAN'S GOAT Unleash "Shit Kicker" Video

TNT Releases New Single "Tears In My Eyes"

EVERY MOTHER'S NIGHTMARE Album Smokin' Delta Voodoo Gets Reissue

Canada's LOUD AS HELL Announces 2018 Line Up W/ FIT FOR AN AUTOPSY, ARCHSPIRE, INTO ETERNITY, NINJASPY And More

RED DEVIL VORTEX Launches "Something Has To Die" Video

HALESTORM Add Dates To Female-Fronted Hard Rock Tour

A PERFECT CIRCLE Share New Song "So Long, And Thanks For All The Fish"

TREMONTI Releases Music Video For Debut Single "Take You With Me"

LIZZY BORDEN Returns With His First Album In 11 Years, My Midnight Things

LORD OF THE LOST Announce New Album Thornstar, European Tour Dates

LOUDWIRE Announces GEN-X SUMMER With BUCKCHERRY, P.O.D., LIT, & ALIEN ANT FARM

VILE CALIBER Release New "Willpower" Track, Video

MARDUK Announce New Album Viktoria

THE RAVEN AGE Reveal New Vocalist MATT JAMES

GHOST Set To Release New Album Prequelle

CKY Announce Summer Co-Headline Tour With SLAVES

AMANDA SOMERVILLE'S TRILLIUM Reveal New Album, Tectonic

THE ATOMIC BITCHWAX Confirm North American Tour With THE SWORD

MADBALL Announce For The Cause Album Details

Symphonic Metallers GRAVESHADOW Unveil New Video For "Warchief"

MISS MAY I Launch New "Under Fire" Music Video

SEVENTH WONDER Announce New Album, Tiara

ARTILLERY To Reissue B.A.C.K. Album In June

YES Featuring ANDERSON, RABIN, WAKEMAN Announce QUINTESSENTIAL YES: THE 50th ANNIVERSARY TOUR

STRIKER Unleash "Pass Me By" Video

VICIOUS RUMORS Announce "Digital Dictator - 30th Anniversary Tour"

LAS RAGEOUS Band Performance Times Announced

PHOENIX RISING Release Video For "Lights Out"

DORO Unveils Cover Artwork + Title Of New Upcoming Album Forever Warriors, Forever United

ALICE COOPER Extends North American "Paranormal Evening" Tour Through October

TRIVIUM Launches "Endless Night Video

TOOL Music Clinics Announced For May

AFTERSHOCK Festival Reveals 2018 Band Lineup

VOICES OF EXTREME Announce Debut UK Tour

SALEMS LOTT Release "Royal Desperado" Video

VANLADE Stream "The Curse at Raven's Reach" Song

SABER TIGER Eastern Europe 'Devastation Tour' Announced

BULLET "Fuel The Fire" In Newly Launched Video

SEVENDUST Are "Not Original" With New Video

TREMONTI Stream New Album Title Track "A Dying MAchine"

MEGADETH Announce Killing Is My Business...And Business Is Good: The Final Kill Deluxe Reissue Of Iconic Debut Album

NERVOSA Debut "Never Forget, Never Repeat" Track

FIVE FINGER DEATH PUNCH Stream New "Fake" Track

KORPIKLAANI Announce New Studio Album, Kulkija

RINGS OF SATURN Release Music Video For "Margidda"

EXMORTUS Premiere New Single, "Make Haste"

MILLENNIAL REIGN "Break The Tide" With New Video

THE NIGHT FLIGHT ORCHESTRA Reveal New Album Sometimes The World Ain't Enough

GRAVEYARD Debuts New Video For "Please Don't"

GRANNY 4 BARREL Unleash "She Likes Guns" Video

Original VICIOUS RUMORS Bassist DAVE STARR Celebrates 30th Anniversary Of Digital Dictator Album

K.K. DOWNING Unveils Autobiography Cover For US Edition Of Heavy Duty: Days And Nights In Judas Priest

LORDI Reveal Sexorcism Album Details

TETRARCH Announces Upcoming Headline Tour Dates

ALESTORM, GLORYHAMMER Announce North American Tour

FLESHGOD APOCALYPSE Equipment Stolen In Sweden

NEKROGOBLIKON Unleash Bombastic New Track, "The Magic Spider"

WITCH MOUNTAIN Confirms North American Summer Tour

SOULFLY/CAVALERA CONSPIRACY Guitarist MARC RIZZO Announces NYC Listening Party

WORHOL Streams New Track "Is This What's Left Of Me"

OTEP Announces "FIRE & FURY" North American Summer Headline Tour Dates