SAXON To Release Solid Book Of Rock Box Set


By Larry Petro, News Monkey
Friday, July 7, 2017 @ 2:25 PM


| | | |
| --- | --- | --- |
| | | Out August 4th; Video Trailer Launched |
Metal giants SAXON have announced the release of Solid Book Of Rock, an upcoming 14-disc box set which will be available on August 4th. A video trailer for the release has been launched and you can check it out below.

Solid Book Of Rock contains SAXON's nine studio albums from 1991 to 2009 with eight bonus tracks, plus two bonus CDs (Classics Re-Recorded originally issued with the initial pressings of Killing Ground, and Lionheart - Rough Studio Mix originally issued on the 2006 limited edition) and three bonus DVDs (the limited edition DVDs originally released with Lionheart, The Inner Sanctum and Into The Labyrinth. It all comes in a 12" x 12" casebound book featuring a stunning brand new cover painting by Paul R. Gregory and includes a 24-page booklet with all the lyrics and credits, plus photos.

If that wasn't enough, you can get this fabulous cover art as a print signed by Biff with the Amazon Exclusive Edition. These are limited to just 500 copies so be quick. Order yours HERE.

Tracklisting:

Solid Ball Of Rock:
"Solid Ball Of Rock"
"Altar Of The Gods"
"Requiem (We Will Remember)"
"Lights In the Sky"
"I Just Can't Get Enough"
"Baptism Of Fire"
"Ain't Gonna Take It"
"I'm On Fire"
"Overture In B-Minor / Refugee"
"Bavarian Beaver"
"Crash Dive"
Bonus tracks:
"Requiem (We Will Remember)" [single version]
"Reeperbahn Stomp"
Forever Free:
"Forever Free"
"Hole In The Sky"
"Just Wanna Make Love To You"
"Get Down And Dirty"
"Iron Wheels"
"One Step Away"
"Can't Stop Rockin'"
"Nighthunter"
"Grind"
"Cloud Nine"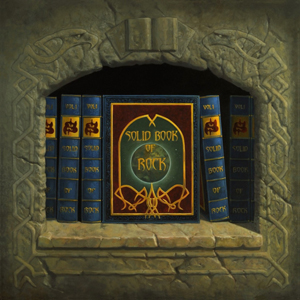 Bonus tracks:
"Princess Of The Night" [live]
"Forever Free" [live]
Dogs Of War:
"Dogs Of War"
"Burning Wheels"
"Don't Worry"
"Big Twin Rolling (Coming Home)"
"Hold On"
"The Great White Buffalo"
"Demolition Alley"
"Walking Through Tokyo"
"Give It All Away"
"Yesterday's Gone"
Bonus tracks:
"The Great White Buffalo" [live]
"Denim And Leather" [live]
Unleash The Beast:
"Gothic Dreams"
"Unleash The Beast"
"Terminal Velocity"
"Circle Of Light"
"The Thin Red Line"
"Ministry Of Fools"
"The Preacher"
"Bloodletter"
"Cut Out The Disease"
"Absent Friends"
"All Hell Breaking Loose"
Bonus tracks:
"Crusader" [live]
"Solid Ball Of Rock" [live]
Metalhead:
"Intro"
"Metalhead"
"Are We Travellers In Time"
"Conquistador"
"What Goes Around"
"Song Of Evil"
"All Guns Blazing"
"Prisoner"
"Piss Off"
"Watching You"
"Sea Of Life"
Killing Ground:
"Intro"
"Killing Ground"
"Court Of The Crimson King"
"Coming Home"
"Until Hell Freezes Over"
"Dragon's Lair"
"You Don't Know What You've Got"
"Deeds Of Glory"
"Running For The Border"
"Shadows On The Wall"
"Rock Is Our Life"
Classics Re-Recorded [Bonus CD]:
"Princess Of The Night"
"Crusader"
"Wheels Of Steel"
"Motorcycle Man"
"Strong Arm Of The Law"
"Denim And Leather"
"Dallas 1pm"
"And The Bands Played On"
Lionheart:
"Witchfinder General"
"Man And Machine"
"The Return"
"Lionheart"
"Beyond The Grave"
"Justice"
"To Live By The Sword"
"Jack Tars"
"English Man O'War"
"Searching For Atlantis"
"Flying On The Edge"
Lionheart Studio Audio - Rough Mix [Bonus CD]:
"Witchfinder General"
"Man And Machine"
"The Return"
"Lionheart"
"Beyond The Grave"
"Justice"
"To Live By The Sword"
"Jack Tars"
"English Man O'War"
"Searching For Atlantis"
"Flying On The Edge"
"Beyond The Grave" [single version]
The Inner Sanctum:
"State Of Grace"
"Need For Speed"
"Let Me Feel Your Power"
"Red Star Falling"
"I've Got To Rock (To Stay Alive)"
"If I Was You"
"Going Nowhere Fast"
"Ashes To Ashes"
"Empire Rising"
"Attila The Hun"
Into The Labyrinth:
"Battalions Of Steel"
"Live To Rock"
"Demon Sweeney Todd"
"The Letter"
"Valley Of The Kings"
"Slow Lane Blues"
"Crime Of Passion"
"Premonition In D Minor"
"Voice"
"Protect Yourselves"
"Hellcat"
"Come Rock Of Ages (The Circle Is Complete)"
"Coming Home" [bottleneck version]
Lionheart DVD:
Lionheart - making of
"Lionheart" - live clip
"Beyond The Grave" - promo video
5.1 96k high end sound mix of the album
The Inner Sanctum DVD:
A Night Out With The Boys
"To Hell And Back Again"
A Night Out With Boys - The Idea
A Night Out With Boys - Not Really
"See The Light Shining"
A Night Out With Boys - Now It Started
"Redline"
"Suzie Hold On"
"Stand Up And Be Counted"
"Frozen Rainbow"
"Never Surrender"
Into The Labyrinth DVD:
"Perceval" - Biff plays King Arthur in this Spanish film, directed by Pablo Aragues Millan
"Let There Be Light" - documentary about the live staging and lighting
Audio interview with Biff Byford - Biff talks about the songs on Into The Labyrinth




Please log in to view RANTS

If you don't have a username, click here to create an account!






Represent! Get Your KNAC.COM Bumper Sticker

Happenings This Week on KNAC.COM

DREAM CHILD Debut First Video For "Under The Wire"

REDEMPTION Launches "Someone Else's Problem" Video

KING DIAMOND LP Picture Disc Reissues Now Available For Abigail II: The Revenge, House of God And Voodoo

TOMBS Announce North American Dates

POWERWOLF Release New Song "Incense & Iron"

VAN CANTO Release Official Video For "Melody"

HAKEN, LEPROUS Join Forces For North American Tour

PARADISE LOST Announce U.S. Headlining Tour

BROKEN HOPE Announce European 30 Year Anniversary Tour

THE UNITY Set To Rise With New Album In September

STURGIS BUFFALO CHIP 2018 Lineup Finalized

REVOCATION Launches Video For "Of Unworldly Origin

PIG DESTROYER Premiere "Army of Cops" Video

VOIVOD Reveal The Wake Album Details, Release Date

2018 GENERATION AXE Tour Announced With STEVE VAI, ZAKK WYLDE, YNGWIE MALMSTEEN, NUNO BETTENCOURT, TOSIN ABASI

ARMORED DAWN "Sail Away" With Debut Single, Video

MACHINE HEAD Announce 2nd Leg Of North American "Catharsis" Tour

MUSHROOMHEAD Pay Tribute To The Evil Dead In New Video For Alternate Version Of "We Are The Truth"

VICIOUS RUMORS Announce New Singer NICK COURTNEY

DEE SNIDER Unleashes "Become The Storm" Video

JOE SATRIANI Announces G4 EXPERIENCE V5.0: ROCKS THE DESERT

TRIBULATION Confirm North American Tour Dates In Support Of Down Below

INKCARCERATION Music And Tattoo Festival Band Set Times, Sponsors Announced

OMNIUM GATHERUM Release "Gods Go First" Video

GREAT WHITE 'Release' TERRY ILLOUS, Announce New Singer MITCH MALLOY

SIX FEET UNDER Unveils Unreleased Material Collection Unburied

MOB RULES Have A "Ghost Of A Chance" With New Video

DORO Stream Second Album Single "Lift Me Up"

DOYLE Announces Summer UK & European And Winter North American Dates

IMMOLATION Release "When The Jackals Come" Video

ALICE COOPER Reveals New Live Album A Paranormal Evening At The Olympia Paris

TORNADO Set To Unleash Commitment To Excellence Album

SKELETONWITCH, MANTAR Announce UK/European Co-Headline Tour

BLACK FAST Debut Third Single "Husk"

PANTERA Mini-Guitars Coming To San Diego Comic-Con

HALCYON WAY Stream New "Slaves To Silicon" Track

BLACKTOP MOJO Announce North American Tour Leg Two

MUNICIPAL WASTE Release "Slime And Punishment" Video

TRAUMA Drop Lyric Video For "The Rage"

YOB Reveal Fall European Tour

BULLETS AND OCTANE Release "Fuck You Song" Video

IMMORTAL GUARDIAN Unveils New Single "Zephon"

MAMMOTH GRINDER Share "Cosmic Crypt" Video

KILLER BEE Work On New Album

MANIMAL Set To Release New Album Purgatorio

JUNGLE ROT Stream New Single "A Burning Cinder"

ABORTED Unveil New Album TerrorVision

GEMINI SYNDROME To Headline The "Synner Conversion Tour"

CAULDRON Reveal New Album New Gods Details

MASSIVE WAGONS Release "Under No Illusion" Video

DEICIDE Announce New Album Overtures Of Blasphemy

WE CAME AS ROMANS Post "Vultures With Clipped Wings" Video

JUNKYARD DRIVE Reveal New Album Details

ARMSTRONG METALFEST Offers 2018 Digital Sampler For 2018 Line-Up

THE NIGHT FLIGHT ORCHESTRA "Turn To Miami" In New Video

POWERMAN 5000 Stream New Track "Footsteps and Voices"

RELAPSE CONTAMINATION TOUR Returns With DYING FETUS Headlining

FELSKINN Release "Close Your Eyes" Video

MONSTROSITY Set For First New Album In 11 Years, The Passage Of Existence

GHOUL Announce "Weapons Of Mosh Destruction 4" Tour

HOLLYWOOD UNDEAD Debut "Gotta Let Go" Video

TESTAMENT, CARNIFEX To Perform During Comic-Con 2018

MOURNING GREY Unleash "Up To You" Video

NWOBHM Legends SATAN Reveal Details For New Album, Cruel Magic

KOBRA AND THE LOTUS Launch "Velvet Roses"

BRAINSTROM Set To Release Midnight Gh

LIGHT THE TORCH Announce Summer, Fall Tour Plans

KINGDOM COME Celebrates Debut Album With 30 Year Anniversary Tour

THE EXPLOITED Announce North American Tour