ANNIHILATOR For The Demented


By Daniel Höhr, European Correspondent
Monday, November 13, 2017 @ 12:48 AM


| | | |
| --- | --- | --- |
| | | |
ANNIHILATOR
For The Demented
Neverland Music/Silver Lining Music, 2017




It's been quite a journey for ANNIHILATOR founder, guitarist and (most of the time) vocalist Jeff Waters since the release of the band's seminal debut album Alice In Hell in 1989. Despite occassionally crossing genre boundaries, ANNIHILATOR, whose history has been marked by constant creativity and productivity as much as constant staff turnover, has been a household name in the thrash metal genre. However, Waters and his colleagues have always stuck out of the often quite samey mass of bands in the trash scene and have been good for many a surprise.

Now, 28 years after Alice In Hell, ANNIHILATOR's sixteenth studio effort For The Demented is on the shelves. With the support of bass player Rich Hinks in the songwriting and production of the album, Jeff Waters was in complete control of the songs. The previously released opener "Twisted Lobotomy" and "One To Kill" leave no doubt that For The Demented marks the band's return to bona fide thrash metal after past excursions into other territories. At the same time, Jeff Waters delivers melodic hooks and groove in abundance, thereby reviving ANNIHILATOR's virtues from the days of the early demos and the first four studio albums and giving them a modern sound and the occasional extra dash of enhanced shredding. The album's title track blends all those elements to a rather sophisticated five-and-a-half-minute composition that speaks for itself. The balladesque "Pieces Of You" focuses on melodic aspects while "The Demon You Know" is a groovy mid-tempo rocker. "Phantom Asylum" starts with spooky sort of chords and then brings back the thrash before it turns to a melodic and slower middle section introducing one of the best guitar solos on the entire opus. The synth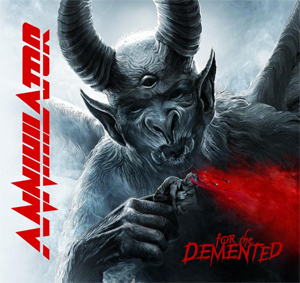 sounds at the beginning of "Altering The Altar" create an almost heavenly atmosphere but, not entirely unexpectedly, are utterly misleading. The track is actually a stright-down-the-line up-tempo smasher, heavy, relentless and musically brilliant. "The Way" has a good dash of rock and roll and punk in it, a party-song that will be awesome live. The contrast to the following 2:12 intrumental "The Dark" couldn't be any greater – clean guitar harmonies alternating with a slow and doomy riff. As if to emphasize the whole point of the album, the concluding "Not All There" returns to speedy thrash riffing but has quite a few surprises in store as well. There is funky part, which seems to match the title of the track while the balladesque section leading to the solo parts offers a moment of introspection. Not without a sense of humour, both the song and the album ingeniously end with the return of the funky bit.
ANNIHILATOR's lates opus features everything ANNIHILATOR stand for: driving thrash metal, melodic hooklines, groove, stellar musicality, virtuosity and stylistic diversity. There is some great singing on this album as well. In fact, the vocals seem way better than on the previous record, the 2015 release Suicide Society. The production is crisp, crystal clear and crunchy, especially the guitar sound and the drums, even though they might well be programmed. Never mind, they sound authentic enough. For The Demented is an exciting album and a hot candidate for my top ten album list this year. As sophisticated and diverse For The Demented sounds, it can easily be summed up in three words: Go get it.
5.0 Out Of 5.0




Please log in to view RANTS

If you don't have a username, click here to create an account!






ALICE COOPER In Houston Photo Gallery

ICARUS WITCH Goodbye Cruel World

TARJA, STRATOVARIUS, SERPENTYNE In Cologne, Germany

CLUTCH, SEVENDUST, TYLER BRYANT & THE SHAKEDOWN In Portland, OR With Photos!

ACCEPT In Houston, TX With Photos!

U.D.O. Steelfactory

SKULL FIST Way Of The Road

SOULFLY Ritual

ANTHRAX State of Euphoria 30th Anniversary Deluxe Edition

FIFTH ANGEL The Third Secret

STEVE GRIMMETT'S GRIM REAPER In New Bedford, MA

ANAAL NATHRAKH A New Kind of Horror

PRIMAL FEAR Apocalypse

BEHEMOTH I Loved You At Your Darkest

DORO Forever Warriors, Forever United

SLASH FEATURING MYLES KENNEDY AND THE CONSPIRATORS In Houston, TX Photo Gallery

BILLY MORRIS AND THE SUNSET STRIP Holdin' All The Aces

VINCE NEIL In Houston, TX Photo Gallery

DEE SNIDER For The Love Of Metal

UNLEASH THE ARCHERS, STRIKER, HELION PRIME In Houston, TX W/Photos!

CLUTCH, SEVENDUST In Houston, TX

KING KOBRA Sweden Rock Live

DREAM CHILD Until Death Do We Meet Again

SCORPIONS, QUEENSRYCHE In Tampa, FL With Photos!

HUMBLE PIE Live At The Ottawa CityFolk Festival

BEHEMOTH Album Listening Party In Los Angeles For I Loved You At Your Darkest

THE DEAD DAISIES, HOOKERS 'N BLOW In Ottawa, Canada With Photos!

DRAGONLORD Dominion

STONE BROKEN Ain't Always Easy

BRANT BJORK Mankind Woman

KORPIKLAANI Kulkija

BRAINSTORM Midnight Ghost

SLEAZY WAY OUT, INSUFFICIENT FUNDS In Ottawa, Canada

DEEP PURPLE, JUDAS PRIEST In Jacksonville, FL W/Photos!

HELLOWEEN In Worcester, MA With Photos!

RED TIGER Evolution

ALTER BRIDGE Live At The Royal Albert Hall Featuring The Parrallax Orchestra

CLUTCH Book Of Bad Decisions

ANGRA In Winter Park, FL With Photos!

TALES FROM THE PORN H.M.M.V.

CARRY THE STORM i/E

PIG DESTROYER Head Cage

SAXON Strong Arm Of The Law Reissue

THE DEAD DAISIES In Houston, TX Photo Gallery

ALICE IN CHAINS, BUSH, THE CULT, STONE TEMPLE PILOTS In Ridgefield, WA W/Photos!

SUICIDAL TENDENCIES STill Cyco Punk After All These Years

OPERATION:MINDCRIME, TILL DEATH DO US PART In Portland, OR With Photos!

TNT XIII

DC4 Atomic Highway

CAL JAM '18 POP UP In Los Angeles With Photos!

SLAYER, LAMB OF GOD, ANNTHRAX, TESTAMENT And NAPALM DEATH In Ridgefield, WA With Photos!

JIZZY PEARL OF LOVE/HATE All You Need Is Soul

NIGHT DEMON Live Darkness

RAVENSCROFT Rebel

NASHVILLE PUSSY Pleased To Eat You

QUIET RIOT In Houston Photo Gallery

WARRANT, STEELHEART In Houston Photo Gallery