ALARM FOR WAR Enemies Of The State


By Andrew Depedro, Ottawa Corespondent
Tuesday, November 21, 2017 @ 5:57 AM


| | | |
| --- | --- | --- |
| | | |
ALARM FOR WAR
Enemies Of The State
Novanglus Records Inc




It's not always that a new band comes along whose frontman is barely of legal drinking age and ends up being the highlight of the entire lineup. But, yet, that's exactly how my perception of rap-metal newcomers ALARM FOR WAR came about for me following a couple of listens of their debut EP Enemies Of The State. Fronted by 13-year old rapper/vocalist Buggy and rounded out by guitarist KISA, bassist Fletcher, and drummer Smitty, ALARM FOR WAR have been active in the touring circuit for a good year or so, with the Minneapolis-based band gigging on their own tours in and around their base before landing on one of their most ambitious tours, recently supporting POWERMAN 5000 on some shows in the Midwest earlier this month. They've won quite a lot of accolades for their performances, compared by some as being like "RAGE AGAINST THE MACHINE on steroids meets Layne Staley-era ALICE IN CHAINS" in parts. Particularly, equal praise has been given to Buggy's quick riff rap style, which is admittedly precise and blunt. Even his lyrics are thankfully devoid of the hackneyed and too-common topics of mainstream hip-hop, focusing more on one's inner self and how to bring about positive change in one's life. And, most definitely, about God and the life choices one makes. The band's first breakout song titled "Day Turned Into Night", nestled in the center of the six-song EP and clocking in at over six minutes, tells the story about a despondent kid named Zach whose drug habit ultimately costs him his life. Its moral is summarized as to not blame God for being absent over our life choices but rather be forewarned about the dangers that He had predicted in life. At least the video didn't feature an apple and a snake.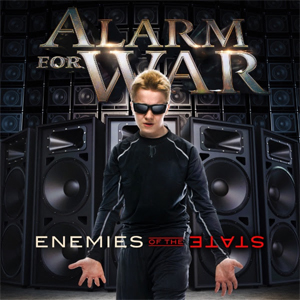 That said, even nu-millennium Christian rap-metallers P.O.D. never namedropped God, Jesus and religion in general on their debut album as often as ALARM FOR WAR have on Enemies Of The State. It's a common theme that runs throughout the EP and at one point, it's almost becoming a distraction from anything else that the band have to offer. "Justified", "No Compromise" and "Sooner Or Later" in particular are the guiltiest of this offence, its message already clear halfway through the song before they start becoming more and more like pushy Jehovah's Witnesses trying to aggressively convert the listener after they've made the sales pitch. Granted, most of the songs are between 2 and a half to three minutes in length so there's not enough of a time frame to expand on their message (and, lest we forget, the members of ALARM FOR WAR with the exception of Buggy do have a background in Minneapolis' hardcore scene so they're used to playing fast anyway). But still, there's something to be said for being subtle about gabbin' about God in rock 'n roll. U2 and ARMORED SAINT have long mastered that art since the beginning of their careers to the point that you would never even guess about their religious overtones by now. Even STRYPER picked up on that hint almost three decades ago when they did away with the whole Bible toss into the audience routine, jammed some EARTH, WIND & FIRE covers and started creating albums on par with their 80's material. In comparison, Enemies Of The State comes off mostly like Reverend Lovejoy suddenly discovering that "In-A-Gadda-Da-Vida" was never a church hymn, and appears to preach to the converted. Luckily, as a young band, ALARM FOR WAR have time to change their approach from here on in.
2.5 Out Of 5.0
https://www.alarmforwar.com/
https://www.facebook.com/AlarmForWar




Please log in to view RANTS

If you don't have a username, click here to create an account!






ALICE COOPER In Houston Photo Gallery

ICARUS WITCH Goodbye Cruel World

TARJA, STRATOVARIUS, SERPENTYNE In Cologne, Germany

CLUTCH, SEVENDUST, TYLER BRYANT & THE SHAKEDOWN In Portland, OR With Photos!

ACCEPT In Houston, TX With Photos!

U.D.O. Steelfactory

SKULL FIST Way Of The Road

SOULFLY Ritual

ANTHRAX State of Euphoria 30th Anniversary Deluxe Edition

FIFTH ANGEL The Third Secret

STEVE GRIMMETT'S GRIM REAPER In New Bedford, MA

ANAAL NATHRAKH A New Kind of Horror

PRIMAL FEAR Apocalypse

BEHEMOTH I Loved You At Your Darkest

DORO Forever Warriors, Forever United

SLASH FEATURING MYLES KENNEDY AND THE CONSPIRATORS In Houston, TX Photo Gallery

BILLY MORRIS AND THE SUNSET STRIP Holdin' All The Aces

VINCE NEIL In Houston, TX Photo Gallery

DEE SNIDER For The Love Of Metal

UNLEASH THE ARCHERS, STRIKER, HELION PRIME In Houston, TX W/Photos!

CLUTCH, SEVENDUST In Houston, TX

KING KOBRA Sweden Rock Live

DREAM CHILD Until Death Do We Meet Again

SCORPIONS, QUEENSRYCHE In Tampa, FL With Photos!

HUMBLE PIE Live At The Ottawa CityFolk Festival

BEHEMOTH Album Listening Party In Los Angeles For I Loved You At Your Darkest

THE DEAD DAISIES, HOOKERS 'N BLOW In Ottawa, Canada With Photos!

DRAGONLORD Dominion

STONE BROKEN Ain't Always Easy

BRANT BJORK Mankind Woman

KORPIKLAANI Kulkija

BRAINSTORM Midnight Ghost

SLEAZY WAY OUT, INSUFFICIENT FUNDS In Ottawa, Canada

DEEP PURPLE, JUDAS PRIEST In Jacksonville, FL W/Photos!

HELLOWEEN In Worcester, MA With Photos!

RED TIGER Evolution

ALTER BRIDGE Live At The Royal Albert Hall Featuring The Parrallax Orchestra

CLUTCH Book Of Bad Decisions

ANGRA In Winter Park, FL With Photos!

TALES FROM THE PORN H.M.M.V.

CARRY THE STORM i/E

PIG DESTROYER Head Cage

SAXON Strong Arm Of The Law Reissue

THE DEAD DAISIES In Houston, TX Photo Gallery

ALICE IN CHAINS, BUSH, THE CULT, STONE TEMPLE PILOTS In Ridgefield, WA W/Photos!

SUICIDAL TENDENCIES STill Cyco Punk After All These Years

OPERATION:MINDCRIME, TILL DEATH DO US PART In Portland, OR With Photos!

TNT XIII

DC4 Atomic Highway

CAL JAM '18 POP UP In Los Angeles With Photos!

SLAYER, LAMB OF GOD, ANNTHRAX, TESTAMENT And NAPALM DEATH In Ridgefield, WA With Photos!

JIZZY PEARL OF LOVE/HATE All You Need Is Soul

NIGHT DEMON Live Darkness

RAVENSCROFT Rebel

NASHVILLE PUSSY Pleased To Eat You

QUIET RIOT In Houston Photo Gallery

WARRANT, STEELHEART In Houston Photo Gallery