ROSS THE BOSS Live In Ottawa, Canada

By Andrew Depedro, Ottawa Corespondent
Sunday, February 9, 2020 @ 10:49 AM

| | | |
| --- | --- | --- |
| | | Hail To Bytowne! Legendary MANOWAR/DICTATORS Axeman Brings The Hammer Down At Mavericks January 30, 2020 |
All Photos By Andrew Depedro
Overlook the silly Viking costumes with the assless chaps and the excessive amounts of orchestra arrangements they've been doing on the last seven studio albums, and it turns out that MANOWAR – particularly during the 80's – were rather musically solid. From the raw versatile power of 1982's debut Battle Hymns all the way up to 1988's groundbreaking Kings Of Metal (which saw the band tour for the album for three years straight), these NY-based architects of traditional power metal were one of the genre's hardest-working bands known for both their over-the-top wild blistering musical histrionics and punishingly lengthy world tours, bucking many popular mainstream trends by watching many of those genres burn themselves out prematurely – at least on this side of the pond – while breaking records overseas as fast as they could set them, mostly for being the world's loudest band. And hard not to see or hear why: The combination of Joey DeMaio's powerful vocal range coupled with Eric Adams' thundering bass grooves and the blistering fast solos of Ross "The Boss" Friedman was primed to rival even many protégés in the then-burgeoning thrash metal scene. And while MANOWAR are still very much an active band with a fiercely loyal following elsewhere in the world, their North American following is minimal in comparison. Yet, given that they haven't done a full continental tour in almost 20 years, which would be the most obvious factor in their mostly cult status over here, MANOWAR have otherwise gained a lot of acceptance amongst the new generation of diehard metal fans who have suddenly reconnected with the band's early catalogue.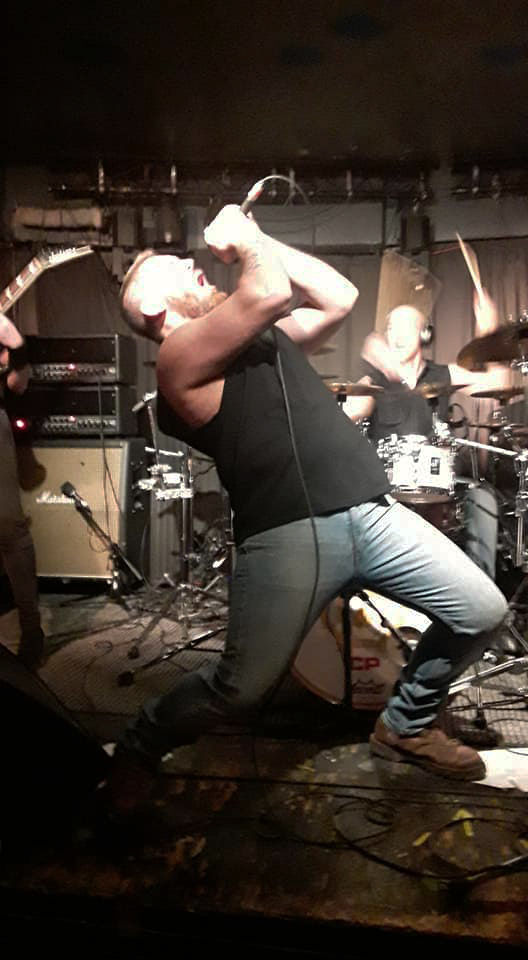 In this case, the celebration of MANOWAR's early catalogue has been spearheaded by none other than Ross Friedman himself as his former band celebrates four decades of blown speakers, hailing/killing, proclaiming death to false metal, and showing the exit sign to the hall for the wimps and poseurs – none of which were present amongst the three opening local bands fortunate enough to find themselves on this rare bill.
With a combined total of five members attempting to work themselves around 10 feet of stage room, local power metallers SCEPTOR are well familiar with the venue's logistics and fire code. They last played on this same stage opening for HAMMERFALL on Halloween night in a bizarre costumed hybrid of MARILLION meeting the Teenage Mutant Ninja Turtles, seeing off their original frontman Kelsey Graham while breaking in newcomer Ben. Back for a second time (minus the costumes but back with drummer Dmitri "The Russian Percussion" Elizarov fully healed from some sort of aggravated rotator cuff injury he'd been dealing with since October), the band make the best of their limited stage space as they can. Why they open their set with an instrumental titled "Riding Out" is pretty much anyone's guess, but SCEPTOR otherwise keep with a consistent setlist, which was overall the same as their Halloween performance: Crowd-pleasers such as "Where Art Thou", "Burn Bundy Burn", "Drink On", "Protector Of The Skies" and the solo Bruce Dickinsonesque-sounding "Shadows In The Tower" all figured nicely and Ben's become much more comfortable with his role in the band. The additional change to the setlist was in the form of a manic cover of HELLOWEEN's "I Want Out", as Ben's Michael Kiske-style falsetto reaches the heavens while guitarists Josh Collins and Rob Bell exchange their leads and rhythm parts throughout the performance.
https://www.facebook.com/sceptermetal/
https://sceptermetal.bandcamp.com/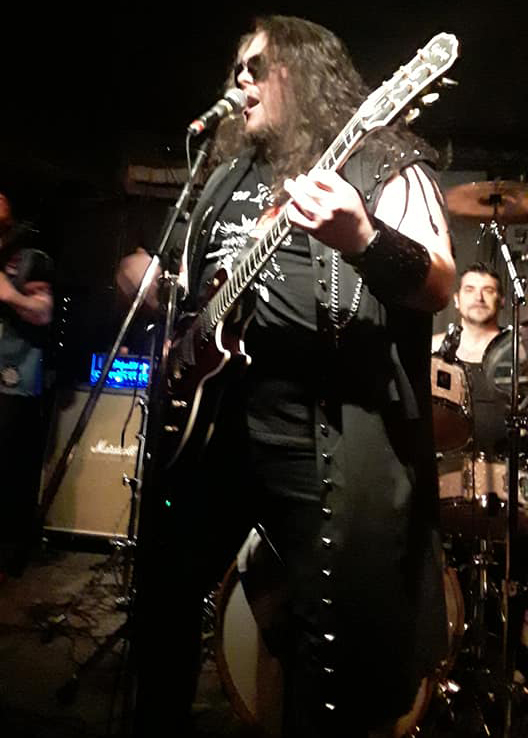 Back from a series of random festival shows across the eastern coast of the country, local Skyrim-savvy metallers LYCANTHRO are changing their game up a bit as they take the stage and open with "Crucible". With the follow-up recording to The Four Horsemen Of The Apocalypse EP about to get underway for the equestrian power quartet comprised of James Delbridge (vocals/guitars), David Shute (guitars), Karl-Anthony Kalli (bass) and Panos Andrikopoulos (drums), this slot was ideal for the band to introduce new songs into the setlist. Off the list for the evening was the previous 14-minute opus "Pale Rider" in exchange for some shorter but equally powerful-sounding jams: "Cry Silver" and "Red Legend". Plus, not wanting to be outdone by SCEPTOR in the secret battle of the best choice of most obscure HELLOWEEN cover, the band's neck-wrenching rendition of "Heavy Metal (Is The Law)" closed their set off nicely, considering that the event was really more of a celebration of MANOWAR's 40-year career and thus, so far, hadn't featured a single MANOWAR cover. Nevertheless, LYCANTHRO had long since proven that they belonged at the same hall that their elders have sung about, especially if their frontman recites lyrics from DRAGONFORCE's "Through The Fire And Flames" at soundcheck.
https://www.facebook.com/Lycanthrokills/
http://www.lycanthro.ca/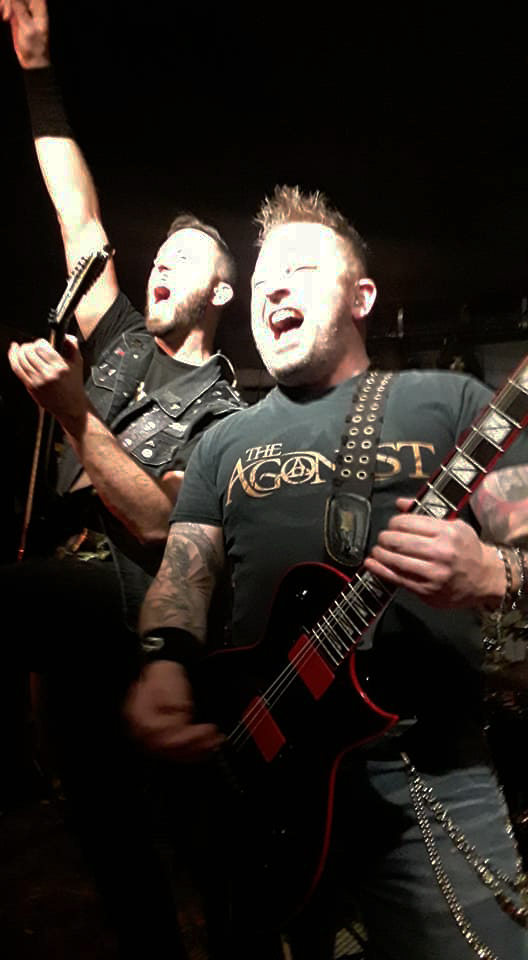 Closing out the local opening talent of the evening would be a band featuring two guys named Steve Leff and a firm-sounding rhythm section. Best known as ROCKIN' ENGINE and having played a variety of opening slots in between the last time I'd seen them opening for WARRIRO SOUL at the Brass Monkey in late 2018, they'd spent the past 14 months promoting their EP Midnight Road Rage and opening for several diverse bands/musicians including DEATH ANGEL, SLOUGH FEG and TONY MACALPINE. Good to see that all of their PR management had been reading my previous endorsement of the ENGINE considering I hadn't caught their show since that same WARRIOR WOUL show at the Monkey back in late 2018. Not that RE really needed much prompting on my end to become more of a household name in the local rock scene by then as two of their songs – "Hiding In Darkness" and "The State Of Nature" – were becoming regular rock staples on a few local stations (quite the achievement given how there are about 5 top 40 pop stations in this city now with the exact same playlist format). Nevertheless, frontman Steve O Leff and his trusted customized yellow and black axe and his wrecking crew – including guitarist Ste Vy Leff, drummer Joel Bilodeau and bassist JP "The Beast" Buzzard – tore through an impressive six-song set full of all originals including their two best-known radio hits and a new track titled "Never Surrender". Not sure exactly when their sophomore recording is supposed to be primed and geared and ready for the showroom, but if the band had time to put out two videos and change the URL link to their Facebook page in between, this ENGINE is runnin' and rockin' on all cylinders with no signs of slowing down anytime soon.
https://www.facebook.com/rockinengineofficial/
https://rockinengine.bandcamp.com/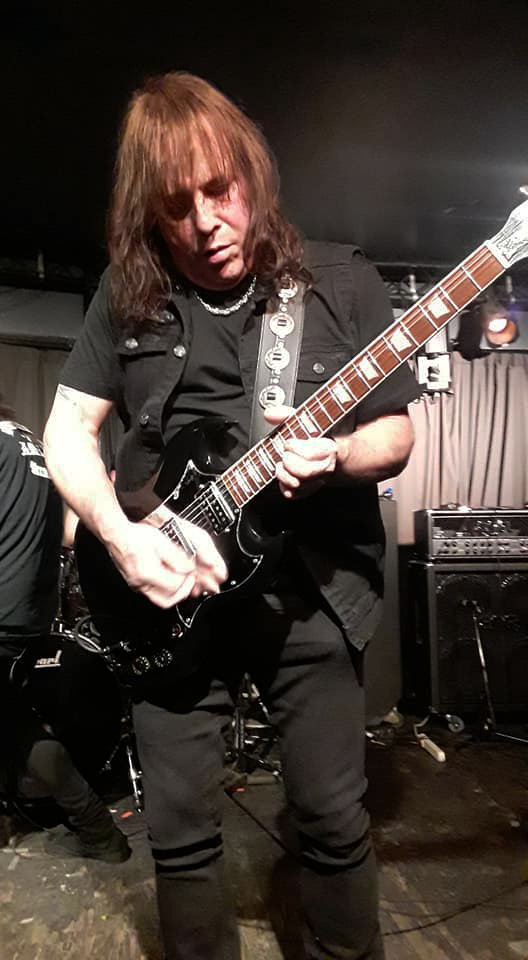 With a music career spanning almost 50 years and spawning three genres of music in between, it's easy to see why the man known as Ross Friedman during his early years first as the founder/guitarist of 70's NYC cult punk legends the DICTATORS, then as founder of 80's rockers SHAKIN' STREET and then as the founder/guitarist in MANOWAR, has since assumed the stage name of Ross The Boss. And these were only the first three obvious bands that came to mind while attempting this intro. His portfolio actually extends to having been musically active in a staggering total of 19 bands, even having recorded more than one studio album with a handful of those same bands as a side project. And if that's not enough evidence that RTB is pretty much one of metal's last true workaholics, his relatively latest namesake solo project is already due to release its fourth album Born Of Fire in March. But rest assured that throughout his resilient career, Ross The Boss is aware of the many musical milestones he's soloed his way through, including MANOWAR's own 40th anniversary and particularly the 35th anniversary of the band's breakout album Hail To England – which would be celebrated in its entirety that night.
Backed by his trusted touring band comprised of vocalist Marc Lopes, bassist Mike LePond (SYMPHONY X) and drummer Lance Barnewold, Ross The Boss launches into opening number "Blood Of The Kings" and the crowd goes apeshit. The quartet are a live force to be reckoned with, thanks to the energetic and skilled rhythm section comprised by LePond and Barnewold and the revitalized chemistry of RTB's fiery playing and Lopes' impeccable vocal range as he belts out the lesser-known classic MANOWAR numbers such as "Sign Of The Hammer", "Wheels Of Fire" and "Violence And Bloodshed" with sheer power and conviction. And with RTB's own solo material being the closest to capturing the intensity of MANOWAR's early work, the new track "Denied By The Cross" is impeccably old school signature MANOWAR, which was a good thing that it was announced as being a new song amongst the catalogue of Hail To England's forthcoming tracks as it would've been pretty hard to tell the difference.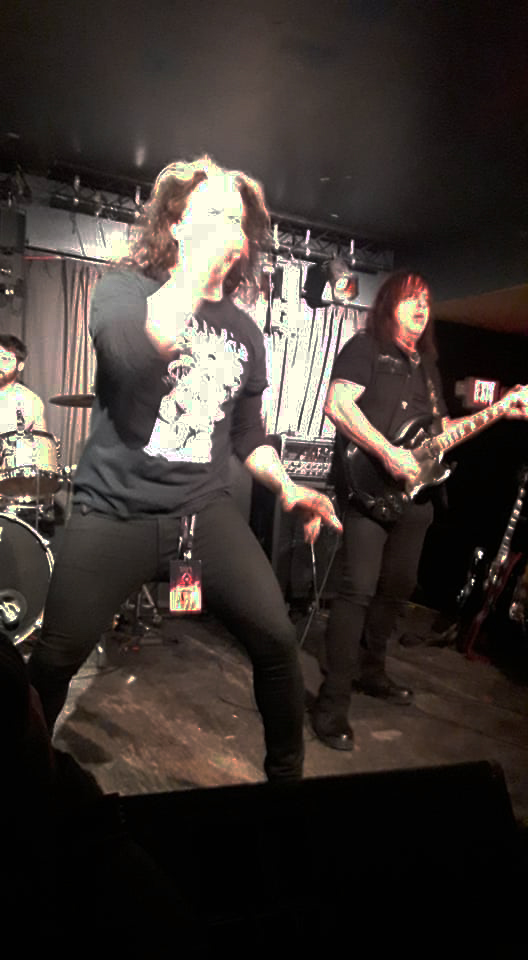 And while most of the audience members were likely well within their infancy or even still being conceived at around the same time Hail To England was propelling MANOWAR to superstardom abroad – it was their ode to the country where they officially formed as a recording/touring band four years earlier – those same audience members also knew the words to every song off the album, much to both RTB and Lopes' surprise. Lopes, meanwhile, boasts an impressive octave range that varies in between 1975-era Steve Tyler and 1986-era Tom Araya, which could explain not only the hair and goatee respectively but also the raspy shrieks during the refrain on "Kill With Power". Closing with the uber-catchy anthems "Fighting The World" and "Hail And Kill", Ross The Boss made good on his promise on the poster to revisit and honor MANOWAR's 80's catalogue in the best way possible – for both the benefit of the old school fans wanting to rekindle the era of True Metal and the new generation wanting to connect with that same era they may have missed out on.
The brotherhood of metal that Joey DeMaio had championed back in the day is still evident – it just took a new team lead in the form of Ross The Boss to take the helm.
A thousand hails to Mavericks, Christina from CHORD Productions and Ross The Boss' team for bringing this show to Ottawa.
https://www.facebook.com/rossthebossofficial/
http://www.ross-the-boss.com/
Setlist:
"Blood Of The Kings" (MANOWAR cover)
"The Oath" (MANOWAR cover)
"Sign Of The Hammer" (MANOWAR cover)
"Wheels Of Fire" (MANOWAR cover)
"Violence And Bloodshed" (MANOWAR cover)
"Denied By The Cross"
"Blood Of My Enemies" (MANOWAR cover)
"Each Dawn I Die" (MANOWAR cover)
"Kill With Power" (MANOWAR cover)
"Hail To England" (MANOWAR cover)
"Army Of The Immortals" (MANOWAR cover)
"Bridge Of Death" (MANOWAR cover)
"Fighting The World" (MANOWAR cover)
"Battle Hymn" (MANOWAR cover)
"Hail And Kill" (MANOWAR cover)