SEPULTURA SepulQuarta


By Francisco Zamudio, Metal X Candy 2.0
Wednesday, August 18, 2021 @ 10:02 AM


| | | |
| --- | --- | --- |
| | | |
SEPULTURA
SepulQuarta
Nuclear Blast Records




No music genre spells Unity quite like Metal does. You can challenge my statement all you want. Despite arguments about what's heavy or what's not, we got each other's backs if someone not-of-our-kind tries to doubt what we're about. We pick each other up off the floor, either in the pit or in real life. We share our feelings, and often times disdain, about current events. Most importantly, we share the music we've grown to love. What better way to show this unity than to invite your friends from all over the world to come play with you. This is exactly what SEPULTURA did on their recent release titled SepulQuarta.

This is not only a collaboration with some of todays and yesterday's great artists, but it shows that something good came out of the past year and a half's bullshit. This is almost a 'Best of' from SEPULTURA's catalog over their 35 years in existence. They've managed to arise and evolve over three decades and continuously earn the respect from loyal SEPULTURA fans. This Nuclear Blast Records release features a slew of artists that add something to each individual track. Originally set as videos to past the time during the past year, they decided best to release this album which is a great move to solidify this in the history books.

So many to name on SepulQuarta that it would take up a whole page to list them all. Just to name a few starting with the track "Hatred Aside" which features vocals by the Brazilian sister-hood consisting of CRYPTA's Fernanda Lira, Angelica Burns of HATEFUL MURDER and Mayara Puertas of TORTURE SQUAD. "Territory" features the great talent of David Ellefson on bass. "Mask" features the uber talented Devin Townsend on guitar and backing vocals. "Slave New World" with TRIVIUM's Matt Heafy on guitar and vocals. An amazing rendition of "Kiaowas" featuring Rafeal Bittencourt of ANGRA. "Vandals Nest" features Alex Skolnick on guitars. Then who better to do "Orgasmatron" with than Phil Campbell himself. As a drummer, I enjoyed one of my favorite songs of all time, "Desperate Cry" with Jason Bittner of OVERKILL. I also had a great smile on my face watching the rendition of "Ratamahatta" with Charles Gavin and Joao Barone on drums and percussion with the beast Eloy Casagrande who, along with Derrick Green on vocals, have been an integral part of the evolution of SEPULTURA since 2011 and 1997, respectfully.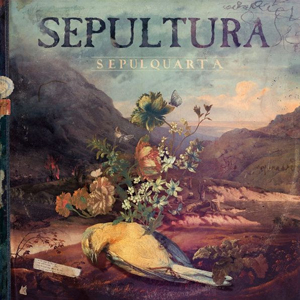 From a musician's standpoint, it reflects what a lot, and I mean A LOT of musicians were attempting to do during the restrictions. Many musicians, would-be and never were, flocked to their instrument and quickly learned how to make video displaying their talents and many collaborated with other musicians (there's that unity thing I talked about earlier), sometimes with people from the other side of the world – not only to display their talent and to create some fun entertainment to past the time, but those hopefuls that aspired to get noticed. This is something that should have been taken advantage of but if you didn't jump on the bandwagon, it may be too late.
Nevertheless, this collaboration shows you the positive outcome from unification through music. Again, you couldn't get a handful of talented musicians in a virtual room that reaches the power that the likes of an album and band like this has achieved. It won't be known whether an album like this would have been produced had it not been tied to the hot topic of the past year and a half, but at least we did get something great out of it. I certainly hope many got something good out of this whole self-reflection phase that the world is forced under.
Much like the Roadrunner United compilation from 2005 put out by SEPULTURA's former home label Roadrunner Records, SepulQuarta is a display of comradery. The amazing musicianship that the quartet consistently shows, record after record in recent years is not only on display here but their energy that remains youthful to this day. To share what they create here with everyone, these many moments in time that will be memorable, will go down in history as one of the great displays of unity in the Metal world.
5.0 Out Of 5.0




Please log in to view RANTS

If you don't have a username, click here to create an account!