SMASH INTO PIECES A New Horizon


By Halo, Heavenly Contributor
Thursday, August 26, 2021 @ 12:58 AM


| | | |
| --- | --- | --- |
| | | |
SMASH INTO PIECES
A New Horizon
Independent Release




SMASH INTO PIECES has done it again! Their 6th studio album A New Horizon is a perfect follow up to Arcadia that was released last summer. SIP has been described as pop, rock, heavy metal and techno. I'm finding it difficult to say what genre they are as I'm very familiar with the past albums. Their music is always crossing so many lines. It's Heavy Melodo-Tech Rock, synth rock and heavy vocals that throws them into Heavier metal. The band is fronted by Chris Adam Hedman Sorbye, who you may know from his time with AMARANTHE. His vocals are always phenomenal. Benjamin Jennebo is on guitar along with Per Bergquist on guitar, bass and vocals. On drums is The Apocalypse DJ, "The Super DJ".

These four have to managed to put out another badass album. A New Horizon is the followup episodes or journey to Arcadia. Arcadia is the name of the game, containing a world where there's no line between reality and virtual reality. When you enter the game, you become Apoc. Apoc is the outsider that's been living off the grid, sets out on a mission to end the control of S4Y and let people live freely, making choices based on true information. Each song is considered an Episode that Apoc goes on a journey and has different experiences in, working his way through the Matrix.

"The battle may be over, but the war has only begun." The citizens of Arcadia started to get lost somewhere between their own reality and the virtual reality that S4Y served them. Every piece of information was controlled by S4Y before being shared, and with only the one source, it's hard to tell what is real and what is fake. Apoc, being the only one that realized what was going on, wanted to save Arcadia before everyone would turn into slaves under S4Y's control. He came up with the perfect plan and managed to take down their organic CPU with a Big Bang. It didn't slow S4Y down, but it revealed their true leader, Ghostis, and Ghostis gave the citizens an offer – to create a better Arcadia by joining the perfect virtual world, or be considered the enemy. Apoc soon became the leader of the Resistance, the side of those who refused to join Ghostis.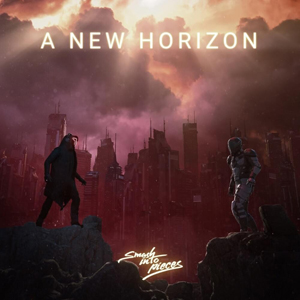 This is the story of the war between "The Resistance" and "The Artificial', the story of Apoc against Ghostis. This Is A NEW HORIZON
There are 4 singles what have been released with videos with 11 tracks total on the album. The narrative of this album is awesomely explained with these singles. "Rise Up", Real One", "My Wildest Dreams" and the 4th "Broken Parts" that's a rock ballad anthem in my opinion. "Glow In The Dark" is on the heavier side. The guys seem to keep a grasp on the lighter rock vs the heavier metal side.
If you were ever a fan of 80s rock with synthesizers, lots of keyboard and fantastic guitar solos you will undoubtedly keep listening to SIP. SIP has confirmed more than 60 live shows in 2021-2022, among others the "Worlds Collide Tour" with EVANESCENCE in March 2022, so the future is looking golden. Let's just hope the pandemic doesn't change things. SIP is becoming a worldwide name, not just overseas, with over one million streams a month. They have gained rocket speed momentum over the last few years. These 4 talents are all amazing musicians: Vocals, instrumentals and compositions. I absolutely love seeing this band live. They never disappoint. Get out and see them!
5.0 Out Of 5.0




Please log in to view RANTS

If you don't have a username, click here to create an account!