PLUSH Plush


By Larry Petro, News Monkey
Friday, October 29, 2021 @ 8:19 AM


| | | |
| --- | --- | --- |
| | | |
PLUSH
Plush
Pavement Entertainment




Review By Hannah Laney
The Barricade Babes

PLUSH's Self-Titled Debut Album Proves Rock is Alive and Well!

The all-female rock band PLUSH's self-titled debut album is out October 29th, 2021. From the very first riff on "Athena", the second single from the band, witnesses know these young women did not come to play. "If you're the one, feel the power of my love" sings powerful vocalist Moriah Formica. She rose to national fame after participating as a contestant on NBC's The Voice. With a strong start to the 13-track collection, the next number does even more to rope you in. "Champion" takes a steady stand that continues to escalate upward throughout its three and a half minutes. Guitarist Bella Perron really shows off her chops with the sharpness in her playing towards the end of the song. Ashley Suppa, bassist for the group, lets her passion be known as well. The first single from the group, "Hate" takes spot number three on the list. It's catchy, raw, and everything hard rock is meant to be. What's even better, this is only the beginning.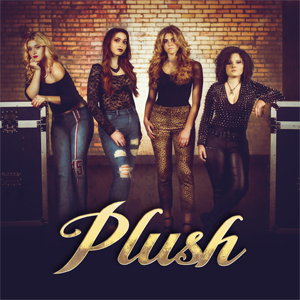 "Found A Way" reveals the maturity and awareness of the talented songwriters. Once again, Perron takes the audience on a ride. It's an empowering listen and leaves the want for more. Who's keeping the beat behind it all? Drummer Brooke Colucci proves her talent in a mesmerizing way. She and Formica first met online when they covered "Barracuda" by HEART on social media together. The two ladies were definitely meant to make music with each other. Taking it down a few steps, "Sober" brings an emotional breakthrough halfway in. "Why can't you fight with your demons, have they already won? Have you given up? Are you done? Tell me, are we done?".
Softening the sound a bit and showing off her vocals even more, Formica soothes listeners with "Don't Say That". Closing out the album, the band takes a final stand in their independence. The last track might be titled "Walk Away", but that's far from the direction PLUSH is headed in the rock world. From now on, it's forward and beyond. It's a story of strength, self-empowerment, and revenge. Most of all, it captures a generation led by powerful voices like those in PLUSH, who will take no prisoners.
4.5 Out Of 5.0




Please log in to view RANTS

If you don't have a username, click here to create an account!