LORDS OF BLACK
Alchemy Of Souls Part II
Frontiers Music Srl - 2021




After the first time I listened to this new LORDS OF BLACK album Alchemy Of Souls Part II, I have to say I was a bit mystified. I just didn't know what to make of the album and any of the thirteen songs contained therein. I commented to a friend of mine that the album at times seemed kind of academic and lacking whatever defines the word "passion".

I'd read guitarist Tony Hernando's essay in the liner notes where he explained his aims with the album (he wrote all the lyrics and music) but that really didn't provide enough clarity for me.

So I've been spending a lot of time with the album trying to make heads or tails of it. And while I have come to appreciate certain tracks for their own individual merits, I just feel there is an awful lot that remains lost on me.

I should mention that pretty much the entire album fits into the "uptempo" category when it comes to song style. There's a slow intro or midsection at times but it's mainly an all-guns blazing delivery from LORDS OF BLACK this time around.

After a brief minute long intro that seemed entirely inconsequential, the album kicks in full bore with the song "Maker Of Nothingness". It's a decent track as is the song "Before That Time Can Come". But in the early part of the disc, it's the song "What's Become Of Us" that stands out. Between the music and that soaring yet gravelly delivery of singer Ronnie Romero, the song cuts out a nice little rhythm for itself and is an early highlight.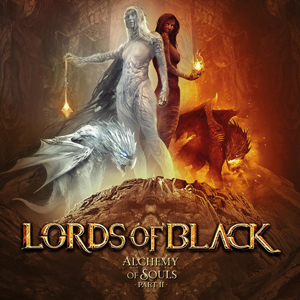 The songs "Mind Killer" and "Death Dealer" have a thematic sameness to their titles but both songs are pretty good rockers.
Two of the strongest songs on Alchemy Of Souls feature standout vocal performances from Ronnie Romero (and strong lyrics from Tony Hernando) where the singer gives a full throttle performance. The first song I'm thinking of is "Prayers Turned To Whispers", which is a cool title unto itself but as the song plays, you get swept up and swept away with the track. The other song, "How Long Do I Have Now", is pretty clearly Hernando searching for answers to questions he has. Ronnie Romero's voice is particularly noteworth on this track.
The album closes out strongly with "No Hero Is Homeless" and the bonus track "Sympathy". Once again, the band as a whole sounds great as they rock their way through each song.
As I said at the start, Alchemy Of Souls Part II confounded me when I first heard the album. And I'm still unsure if I've really grasped everything that LORDS OF BLACK intended with the album. But a number of songs do end up growing on you as you give the disc a few extra spins and you can see the passion the band does put into the work far more clearly at that point. So while I'm not able to provide a more in-depth examination of the goals of the album, it does provide at least some memorable music for fans to sink their metaphorical teeth into.
3.0 Out Of 5.0