RIVERS OF NIHIL The Work


By Nathan Dufour, Great White North
Sunday, November 14, 2021 @ 11:41 AM


| | | |
| --- | --- | --- |
| | | |
RIVERS OF NIHIL
The Work
2021, Metal Blade Records




Music and art have long been bedfellows, following each other around in the collective consciousness of the world at large. Each informs the other, enhances the other. In modern times, through the digital revolution, album art has sometimes taken a back seat - whereas in times not so far passed, a person may buy an album purely based on feelings surrounding the cover art, we are now barraged with more auditory goodies than ever before and occasionally that comes at the cost of truly stunning artwork. Perhaps with the rise of the NFT this will abate, and perhaps not. Certainly, in the case of RIVERS OF NIHIL and their most recent opus, The Work, the cover art demands your attention, and introspection. It is beautifully frigid and ungainly, so please take a sweater - I donít want you to get a cold.

I can barely draw a stick figure, so far be it for me to pontificate too much on the intricacies of Dan Seagraveís art, except to say itís likely on your favourite albums. All that can be said for certain from the laymanís point of view, is that the cover for The Work is immediately enticing, speaking at once of possibility and also of crisp atmosphere, and isolation.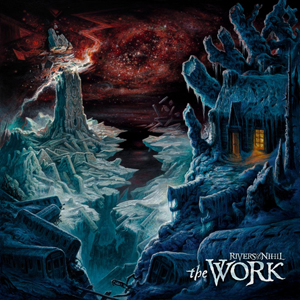 This one is about winter, in keeping with the bandsí previous output and general concept through each of their previous albums, but the sound of RIVERS OF NIHIL here is anything but cold. Not unlike Where Owls Know My Name, The Work is a shimmering beacon of progressive metal mastery - each instrument and passage given its own time to grow and unfurl within the greater concept at hand. All emotions are naked and on full display for the listener. This is not casual music but rather an immersive experience in human experience and expression, at once embodying the isolationist elements present on the cover but also the great unknowns as well. Compositionally, the album hinges on, well, being rather unhinged, following its concept but oscillating wildly within the prog metal framework. Interludes like the start of ďThe Void From Which No Sound EscapesĒ being strong enough to stand on their own. Also, awesome song title.
Sometimes, with a critical eye, we can become mired in the track by track breakdown or the oversimplification of terms in order to get our chosen point across. With a band like RIVERS OF NIHIL (not unlike BETWEEN THE BURIED AND ME) that sort of dissection is useless and ultimately pandering. These acts deal in experience, not snippets, not singles. The totality of the album, of the concept, is of tantamount importance here. The Work is absolutely crushing, difficult, and ultimately rewarding much as its title would suggest and to engage in a pithy expose of its minutiae is doing it a disservice.
Dig in and dig deep and find the fruits of labor to be plentiful. But, whatís next? Is it space? It must be space. That hasnít been done, right?
4.0 Out Of 5.0




Please log in to view RANTS

If you don't have a username, click here to create an account!